SASEC Energy Project to Double the Capacity of India-Bangladesh Electricity Network
1 October 2015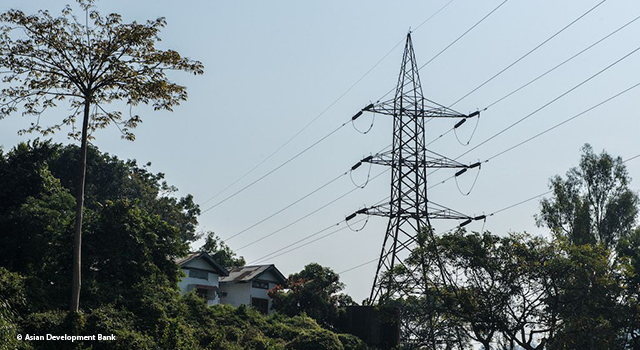 An Asian Development Bank (ADB)-supported SASEC energy project will help boost the import of electricity from India to Bangladesh to meet the country's growing power demand. Approved in September 2015, the $183 million Second SASEC Bangladesh–India Electrical Grid Interconnection Project is set to double the capacity from 500 megawatts (MW) to 1,000 MW of the existing interconnection system between the power grid of western Bangladesh at Bheramara and the grid of eastern India at Bharampur.
Key outputs will include:
Installation of an additional asynchronous 4-kilovolt (kV)/230 kV MW high-voltage direct current (HVDC) back-to-back substation in Bheramara;
Construction of 12 kilometers of 230 kV transmission line from the Bheramara substation to the Ishurdi substation and associated facilities; and
Improved capacity of the Power Grid Company of Bangladesh on technical, project management, regulatory, trading, and financial matters.
The project is expected to be completed by June 2018. ADB is providing $120 million loan financing; the Government of Bangladesh is allocating $63 million.
With a target of providing electricity for all by 2021, the Bangladesh Government is working toward building a generating capacity of 24,000 MW by implementing various programs, including development of cross-border grid interconnections that will enable exchange of power within South Asia, beginning with India. This expansion of cooperation in the power sector between Bangladesh and India is based on the success of the first interconnection project. The first Bangladesh-India Electrical Grid Interconnection Project resulted in power flows of over 2,000 gigawatt-hours from India to Bangladesh in 2014, which improved power availability in Bangladesh, lessened the cost of electricity, decreased power interruptions, and improved power quality.
This second project also supports the thriving market for power trading in India—whose transmission network is connected to Bangladesh, Bhutan, and Nepal—and its bilateral electricity trade in the region. From 2012–2017, India plans to add over 88,000 MW of conventional power capacity. Additionally, it has embarked on a program to add 175,000 MW of renewable energy capacity by 2022.
Power trading in the region can help serve growing demand for energy while saving participating countries billions of dollars, according to a recent ADB study on cross-border electricity trading in South Asia. Furthermore, power trading will also contribute to containing emissions of greenhouse gas and other pollutants in the South Asian power sector.
The SASEC Program aims to promote regional prosperity and improve economic opportunities through strengthened cross-border links in trade, power, road and rail networks in the subregion. In the energy sector, SASEC aims to improve cross-border electricity transmission connectivity, increase power trade, promote capacity development, and increase cooperation in energy efficiency and clean power development.
Related Links: