Sri Lanka Prime Minister Wickremesinghe and India Prime Minister Modi Set to Deepen Engagement
14 September 2015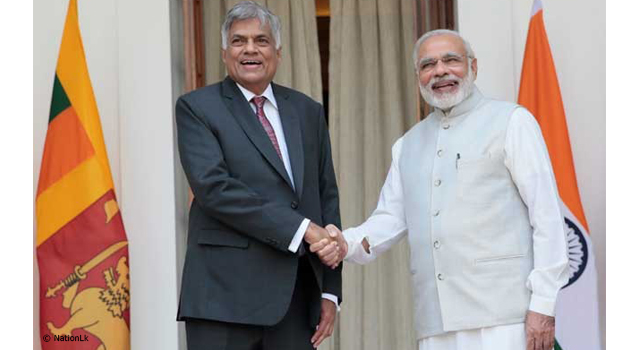 Sri Lanka Prime Minister Ranil Wickremesinghe has extended an invitation for Indian Prime Minister Narendra Modi to visit Sri Lanka in May or June 2016 to sign an agreement on economic and technological cooperation. In a report to the Sri Lankan Parliament, Prime Minister Wickremesinghe said he and Indian Prime Minister Modi, along with other leaders, held discussions on enhancing economic ties between India and Sri Lanka during his visit to New Delhi, India on 14-16 September 2015.
Prime Minister Wickremesinghe expressed hope that Sri Lanka and India could agree in principle on the framework for the economic cooperation agreement by the end of 2015. Speaking to the media, he said this is essential for development.
The recommencing of ferry services between Tuticorin, India to Colombo, Sri Lanka and Rameshwaram, India to Thalaimannar, Sri Lanka, was also discussed by the two Prime Ministers, in consideration of the increasing number of Indian tourists to Sri Lanka.
Mr. Y. K. Sinha, High Commissioner of India, said maritime links contribute to enhanced connectivity in the region, and is aligned with Prime Minister Modi's aim to promote seamless connectivity in the SAARC region.
Related Links: