Bangladesh Businessmen Call for Better Land Port Infrastructure
7 September 2015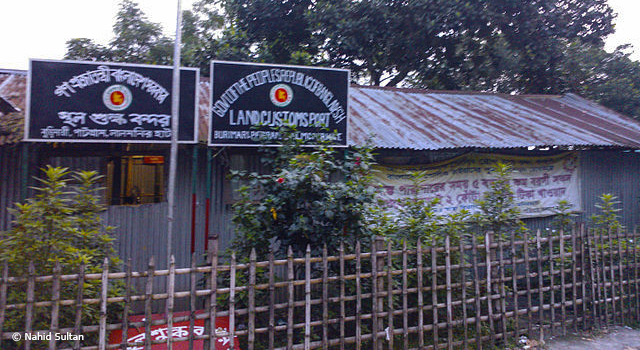 Bangladesh businessmen, speaking at a seminar on "Development of Land Ports and Land Customs Station for Trade Facilitation" organized by the Federation of Bangladesh Chambers of Commerce and Industry (FBCCI) Non-Tariff Measure division, said the country's trade with India could significantly increase if constraints affecting land port infrastructure of both countries are addressed.
Trade between Bangladesh and India is now at $6 billion annually, said FBCCI President Abdul Matlub Ahmad, with 80% of trade conducted through the Benapole land port in Bangladesh. This creates huge pressure on the port, making it challenging for businessmen to get efficient services. Mr. Matlub emphasized the importance of land ports and land Customs stations in trade between Bangladesh, Bhutan, India, and Nepal. Limitations in infrastructure, communication, and excessive documentation create hurdles for trade efficiency.
The group of businessmen proposed reducing pressure on Benapole land port by developing the country's other land ports—such as Sonamajjid, Bhomra, Burimari, Tamabil, and Sheola—and land Customs stations, and boosting their manpower and logistics, and simplifying import/export documentation.
Government officials present at the Seminar voiced their support. National Board of Revenue Chairman (NBR), Md Nojibur Rahman, said they would consider the proposal to develop the land ports. Shri Pankaj Saran, High Commissioner of India to Bangladesh, suggested improving land ports in both Bangladesh and India, and acknowledged that Benapole and Petrapole are the largest land ports in Asia, with 1.2 million people crossing the borders in 2014.
Bangladesh Shipping Minister Shajahan Khan, the Seminar's chief guest, said that the by-pass road currently under construction at Benapole land port is expected to ease traffic pressure. Sheola in Sylhet will also be declared a land port soon, and the Paira Sea Port will be fully functional by 2023.
Other officials present at the Seminar include Bangladesh Land Port Authority (BLPA) Chairman Tapan Kumar Chakravorty, BLPA Director (Audit) Mohammad Abul Kalam, NBR Member (Customs Policy) Farid Uddin, and FBCCI Vice President Mahbubul Alam.
The Government of Bangladesh recently announced initiatives to develop the country's land ports to boost regional trade, undertaking around $84.76 million worth of projects. An Asian Development Bank-financed project under the South Asia Subregional Economic Cooperation (SASEC) Program will improve facilities at Benapole and Burimari land ports.
Related Link: