26 km Section of Asian Highway Linking IMT becomes Operational
31 August 2015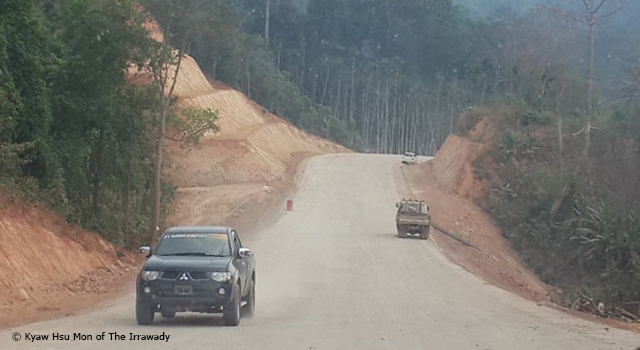 The 25.6-kilometer long Myawaddy-Thin Gan Nyi Naung-Kawkareik section of the Asian Highway linking India, Myanmar, and Thailand (IMT) has become operational, reducing travel time between Thin Gan Nyi Naung and Kawkareik from 3 hours to 45 minutes. Once complete, this Asian Highway section linking IMT countries will run from Moreh in India to Thailand's Maesot via Myanmar's Tamu, Mandalay, and Myawaddy.
The inaugural ceremony was held on 30 August 2015, attended by Myanmar Vice-President U Nyan Tun, Thai Deputy Prime Minister Somkid Jatusripitak, and Chairman of the Kayin National Union General Saw Mutu Sae Po.
Simultaneous to the inauguration, a cornerstone-laying ceremony was also held at Myawaddy for the building of the Myanmar-Thailand Friendship Bridge No. 2, linking Thailand's Maesot with Myanmar's Myawaddy.
With construction having begun 2012 with the assistance of Thailand, the Myawaddy-Thin Gan Nyi Naung-Kawkareik section aims to boost trade and contribute to better people-to-people contact between Myanmar and Thailand. It is part of the Asian Development Bank-funded East-West Economic Corridor Project under the Greater Mekong Subregion Program.
On 16-17 September 2015, an IMT Meeting in Bangkok will discuss and negotiate protocols of the draft IMT Motor Vehicles Agreement. The Meeting will be attended by transport and Customs officials of the IMT countries. It is supported by an Asian Development Bank-administered technical assistance funded by the Japan Fund for Poverty Reduction.

Related Links: