Fourth India-Bhutan Development Cooperation Talks
2 September 2015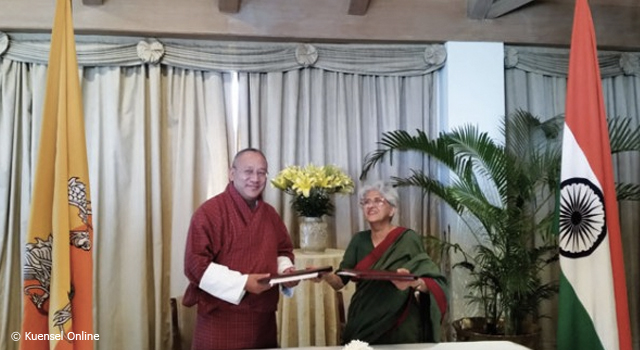 The Fourth Annual India-Bhutan Development Cooperation Talks discussed bilateral development assistance to Bhutan on 2 September 2015 in New Delhi, India, with India pledging about $677.28 million of project assistance to Bhutan. Both sides noted with satisfaction the progress of Small Development Projects (SDPs) and overall project implementation.
India committed about $421.45 million as project tied assistance (PTA), about $127.95 million for program grants, and another $127.95 million for SDPs under Bhutan's Five-Year Plan from July 2013 to June 2018. A total of 85 PTA projects and 485 SDPs have been agreed for implementation during the current Five-Year Plan period.
The next Annual Development Cooperation Talks will be held in Thimphu, Bhutan in 2016.

Related Links:
India, Bhutan review development projects
India Pledges Rs 4,500 Crore Project Aid to Bhutan
Fourth Bhutan-India Development Cooperation Talks Tomorrow
Bhutan and India Reprioritize Projects