Bangladesh Prepares to Enact New Customs Law
22 August 2015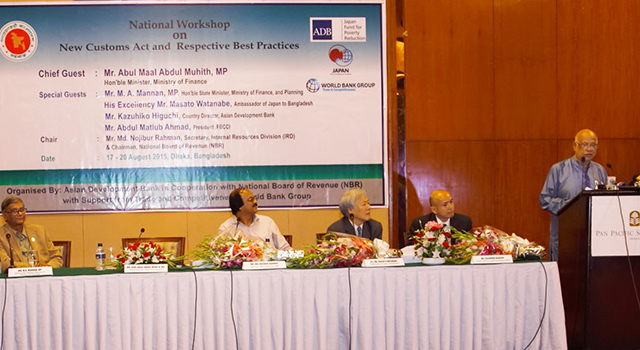 The National Board of Revenue (NBR) of Bangladesh is set to present the Customs Act of 2015 for passage in the September parliamentary session, said NBR Chairman Md Nojibur Rahman. The new Customs Law, which includes international best practices in Customs operations stipulated under the Revised Kyoto Convention (RKC) and the World Trade Organization Trade Facilitation Agreement, will replace the existing 1969 Customs Law.
The RKC ensures predictability and efficiency in Customs procedures to facilitate smooth trade. Adopted in 1999 (revised version) as the blueprint for modern and efficient customs procedures in the 21st century, it includes legal provisions that recommend application of simple and efficient procedures, promoting trade facilitation and effective controls.
Under the current Customs Law, products can only be assessed by Customs officials at point of entry, slowing down the release of goods. The New Customs Law aims to facilitate smooth international trade, reduce time and cost of doing business, and create a better investment climate by including provisions such as:
Simplified declaration and release procedures for authorized traders with good compliance records, including cargo declaration prior to arrival in Bangladesh;
Accelerated Customs processing and speedy release of perishables, emergency disaster relief and goods imported by air express courier companies;
Due date for payment of Customs duties, with payments made after the deadline subject to interest;
Points of inquiry to be put up by NBR to respond to stakeholders' questions and requests for information and forms;
'Inward processing' allowing foreign goods to be imported without payment of duty, with bank guarantee, for use in export-manufacturing operations;
'Outward processing' allowing goods to be exported for repair and returned without payment of duty; and
'Temporary importation' allowing goods to be temporarily imported for specified purposes.
The new Customs Law also mandates that any draft new or amended law, rules or order have to be discussed with the stakeholders. It also recommends regular consultations between NBR and stakeholders to bridge any gap.
NBR and the Asian Development Bank (ADB) jointly organized a Workshop to familiarize Customs officials, other relevant ministries and departments and private-sector stakeholders with provisions and changes in the new Customs Law, on 17-20 August 2015 in Dhaka, Bangladesh. Finance Minister AMA Muhith, State Minister for Finance and Planning MA Mannan, Japanese Ambassador to Bangladesh Masato Watanabe, ADB Country Director Kazuhiko Higuchi, Federation of Bangladesh Chambers of Commerce and Industry (FBCCI) President Abdul Matlub Ahmad, and NBR Member Farid Uddin opened the inauguration ceremony.
State Minister Mannan expressed optimism over automation of Customs procedures with implementation of the new law. FBCCI President Ahmad said the business sector welcomes the new law, since risk-based standard operating procedures for assessment and clearance of goods will benefit honest traders.
The SASEC Trade Facilitation Program supports modernization of Bangladesh Customs, together with the ADB-financed technical assistance to Bangladesh, Supporting Bangladesh's Participation in the SASEC Trade Facilitation Program, funded by the Japan Fund for Poverty Reduction. This technical assistance aims to create a modern Customs administration for Bangladesh through improved border clearance mechanisms and facilitation of trade information access for traders, and seeks to better align Bangladesh Customs procedures and practice with internationally accepted standards.
Related Links: