Dhaka-Sylhet Highway to be Widened into Four-Lane Road
4 August 2015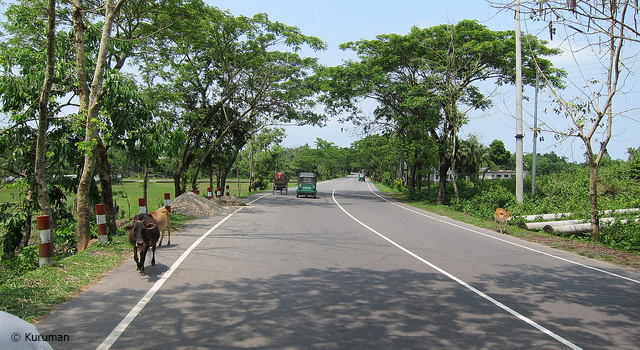 The Bangladesh Government will take steps to widen the Dhaka-Sylhet highway to four lanes to facilitate the flow of traffic, following completion of a feasibility study and detailed design of this national highway. Conducted by the Road and Highways Department, Bangladesh, with funding from the Asian Development Bank (ADB) technical assistance, the study proposed constructing a 286 kilometer (km) road section with four lanes, up to the regional corridor in Shillong in the Indian state of Meghalaya.
The Road Transport and Highways Division, Bangladesh will construct the 226 km four-lane road, which will be designed to accommodate slow-moving vehicular traffic and support future increased traffic flow.
The Dhaka-Sylhet highway is part of the Asian Highway 02, crossing Bangladesh through Banglabandha and Tamabil via Joydevpur, Dhaka, Kanchpur and Sylhet—where the Government also plans to establish a special economic zone. Target date for completion is mid-2019.
The study also delivered
Detailed design of around 1,800 km national and regional highways;
Proposal to upgrade the 295 km road from other side of the Bangabandhu Bridge up to Burimari, Rangpur; and
Feasibility study and detailed design of the 286 km road from Dhaka to Tamabil, through Bhairab-Jagadishpur-Shaistaganj-Sylhet highway.
The Bangladesh: Subregional Transport Project Preparatory Facility, a $23 million technical assistance approved in 2010, provides the facility to prepare a series of regional cooperation and integration transport projects in roads and railways. It focuses on priority transport corridors identified in the South Asian Association for Regional Cooperation (SAARC) Regional Multimodal Transport Study, and also targets transport corridors linking the Bay of Bengal Initiative for Multi-Sectoral Technical and Economic Cooperation (BIMSTEC) countries—including the Asian Highway Network and the Trans-Asia Rail Network. The technical assistance aims to increase Bangladesh's potential to become a transport and transshipment center for the subregion, stimulating subregional trade and the country's national economy.

Related Links: