SASEC Region Trade Integration Indicators Updated
22 July 2015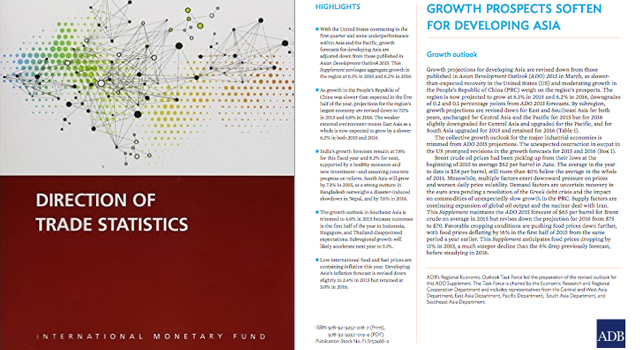 Integration indicators in the South Asia Subregional Economic Cooperation (SASEC) subregion have been updated to include 2014 data, based on calculations by the Asian Development Bank's (ADB) Asia Regional Integration Center. SASEC trade integration has continued to increase over 2012-2014, as shown by its Intra-regional Trade Intensity Index (ITII) which now has caught up – and even exceeded in 2014 – Asia's ITII*.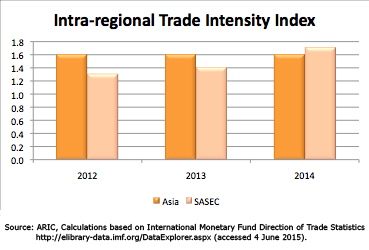 SASEC still mostly trades outside its region but the Intra-regional Trade Share indicates an increasing trend in intra-regional trade. However, its 4.2% share in 2014 with the region is still small compared with its trade activity with the rest of the world. 
SASEC Intra-regional Trade Share increased during 2013-2014, as economic exchange within the region strengthened. Overall Intra-regional Trade Share in Asia remained stable. 

India trades more with countries outside of the SASEC subregion, although this trend has been declining during 2012–2014. In comparison, Bangladesh, Maldives, Nepal and Sri Lanka are increasingly trading with the rest of the world. Nepal has the highest trade share within SASEC countries.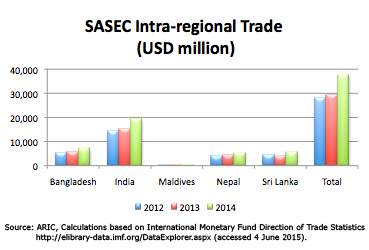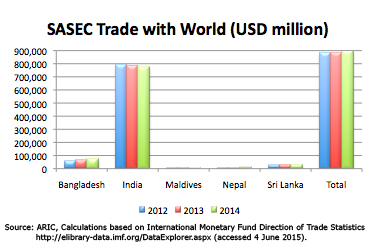 Looking forward to future trends, ADB's Asian Development Outlook (ADO) 2015 publication provides growth forecasts for the subregion. Stronger growth is predicted in South Asia in 2015 – from 7.2% to 7.3% – while projections for 2016 remain at 7.6%. Stronger growth is estimated for Bangladesh in FY2015 but slower growth is expected for Maldives and earthquake-struck Nepal. Meanwhile, India is on track to achieve the ADO 2015 forecast of growth at 7.8% in FY2015. 
* Data for Bangladesh, India, the Maldives, Nepal, and Sri Lanka are drawn from the Direction of Trade Statistics of the International Monetary Fund. Data is not available for Bhutan. Technical notes on indicators are available at www.aric.adb.org/integrationindicators/technotes.