Potentially Large Gains from Enhanced South Asia-Southeast Asia Connectivity
27 May 2015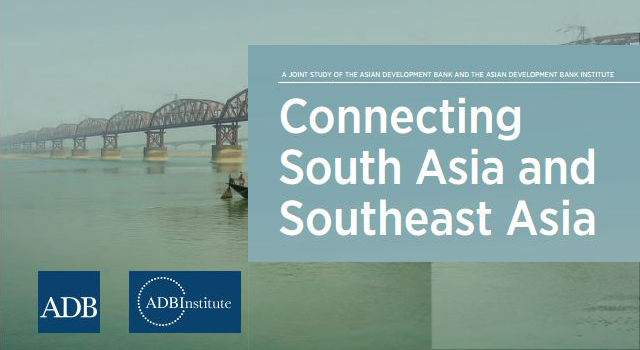 The time is ripe to enhance economic integration between South Asia and Southeast Asia according to a joint study by the Asian Development Bank (ADB) and the Asian Development Bank Institute (ADBI). The gains are potentially large, with welfare in South Asia standing to increase by $375 billion, or 8.9% of gross domestic product, and in Southeast Asia by $193 billion or 6.4% of GDP. While cross-subregional trade has increased from $4 billion to $90 billion over a 23-year period—with South Asia's share of Southeast Asian trade doubling from about 2% to 4% only, and Southeast Asia's share of South Asian trade rising from 6% to 10%—bottlenecks in infrastructure, financial markets, trade facilitation, trade barriers and regional cooperation continue to limit further improvement of economic ties.
Smaller countries in South Asia show large gains in the case of improved connectivity. Bangladesh's real income gains will be 6.9% of GDP, and its export will increase by 86% by 2030. Necessary for these gains are the removal of all tariffs associated with South Asian-Southeast Asian trade, a 50% reduction in inter-regional non-tariff barriers, and a 15% reduction in trade costs, which depends on improved trade facilitation and investment in infrastructure.
The study identifies bottlenecks due to lack of facilities, limited operational efficiency, and gaps in connectivity between seaports and rail and road networks. Below are some of the recommendations included in the report:
Improvements in key road sections in Bangladesh, India, and Myanmar;
Signing of transit agreements with India and Myanmar, and streamlining of border operations through easier documentation and procedures; and
Construction of new deep-water ports or floating container transshipment terminals at Chittagong Port in Bangladesh and Kolkata Port in India, together with development of road infrastructure linking Thilawa Port with Yangon.
ADB and ADBI calculate around $73 billion worth of investment is needed to enhance multimodal transport connectivity and energy trading. Analysis in the study suggests that the overall benefits will far outweigh the costs.
The study also reports that Bangladesh will need around $14.27 billion to prepare its road, rail, ports and energy infrastructure to contribute to effective integration.
The ADB-supported SASEC Program is committed to creating dynamic multimodal transport networks and effective logistics facilities to increase intraregional trade and boost economic growth. Currently, SASEC is implementing 23 transport projects worth around $5.35 billion.
The SASEC Trade Facilitation Program, worth $48 million, focuses on Customs modernization, standards and conformity assessment strengthening, cross-border facilities improvement, through transport facilitation, and institution and capacity building in Bangladesh, Bhutan, and Nepal.

Related Links: