BBIN Highlights Need for Road and Railway Connectivity
22 June 2015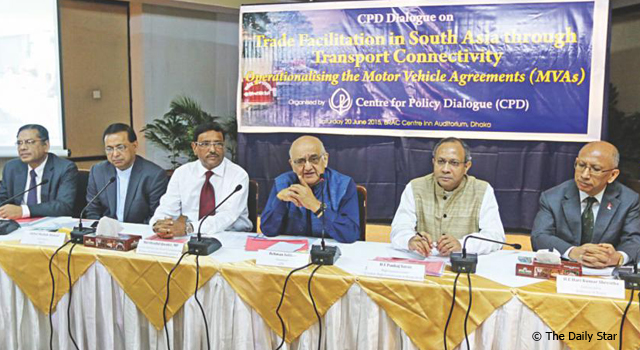 With the recent approval of the regional transit deal among four nations – Bangladesh, Bhutan, India, and Nepal (BBIN) – traffic volume will take a further upturn. The Government of Bangladesh plans to build a 'Dhaka Bypass' at about US$30.87 million under a public-private partnership initiative to improve traffic congestion in the overcrowded city. 
The Roads and Highways Department is ready to select a private company through international bidding to improve the existing two-lane Joydevpur-Debogram-Bhulta-Madanpur road into a four-lane Dhaka Bypass. The road will be constructed under a "design-build-finance-operate-maintain" system with a concession period of 25 years. A Canadian firm completed its first-stage feasibility study in October 2014. 
Aside from roads, rail connectivity is also given priority to bolster trade and commerce in the region. During the recent Center for Policy Dialogue (CPD) gathering to discuss BBIN last 20 June 2015 in Dhaka, Bangladesh, speakers noted that railways should have priority in development of multimodal transport connectivity in the South Asian Association for Regional Cooperation region. This leads to effective facilitation of cross-border movement of goods and people.  
Mr. Mustafizur Rahman, Executive Director of CPD, said potential benefits from the agreement can be maximized by developing a comprehensive multimodal strategy that encompasses four modes of connectivity – trade, transport, investment, and people-to-people – which are critical to deepening regional integration. 
 
Related Links:
Gov't plans to build 'Dhaka Bypass' under PPP initiative
Rail must get priority for connectivity