Asian Development Bank Reaffirms Commitment to Road Connectivity Projects in Bhutan
17 June 2015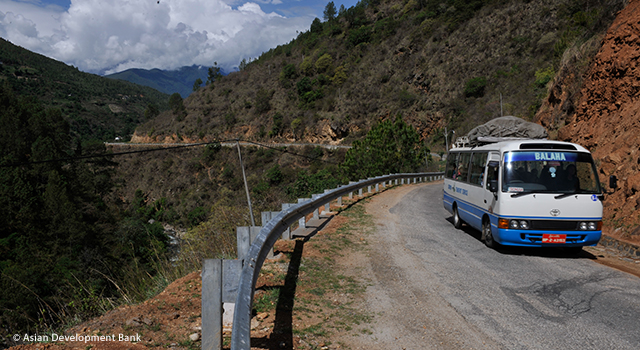 Improvements in Bhutan's infrastructure will help improve and diversify the economy, said Asian Development Bank (ADB) Vice President Wencai Zhang, who is optimistic that Bhutan's private sector stands to benefit from developing an efficient connectivity system, with good roads, airports, and railway.
He reaffirmed ADB's continuous commitment to Bhutan highway projects and the development of the country's wider road sector in discussions with Bhutan Prime Minister Tshering Tobgay and Finance Minister and ADB Governor Namgay Dorji focusing on current and future ADB operations in Bhutan during his visit to Thimphu on 15 June. He also called on the King of Bhutan Jigme Khesar Namgyel Wangchuck, and delivered opening remarks in the Meeting of Bangladesh, Bhutan, India, and Nepal (BBIN) Transport Ministers on Regional Road Transport Connectivity, where the landmark BBIN Motor Vehicles Agreement was signed.
In his speech, the Vice President emphasized ADB's continuing support for ongoing road connectivity projects of BBIN countries under the South Asia Subregional Economic Cooperation (SASEC) program. Thirty priority road projects—worth over $8 billion—in the BBIN area of SASEC have been identified for upgrading and completion of critical transport routes over the next 5 years. These projects broadly cover SAARC transport corridor 4 and 8, including sections linking Bhutan to India—such as the bypass road to be built along the Phuentsholing-Jaigaon border under the SASEC Road Connectivity Project—and other road projects linking Bhutan to Bangladesh and Nepal. Planned regional connectivity projects under SASEC also include facilities to promote cross-border activities, such as access roads, dry ports and land customs stations.
To complement and optimize ADB's continued work in the transport sector in Bhutan, the SASEC Trade Facilitation Program is working with Bhutan, Bangladesh and Nepal to increase trade, including intraregional trade, of SASEC countries by reducing or removing non-tariff barriers, specifically institutional, administrative, and technical barriers to trade. This program aims to help the SASEC countries develop a more efficient, transparent, secure, and service-oriented processing of trade in the subregion, by creating modern and effective customs administration and management; streamlining trade processes and procedures and increasing transparency; and improving services and information for private sector traders and investors.
Related Links: