India-Bhutan Bilateral Trade and Transit Meeting
26 May 2015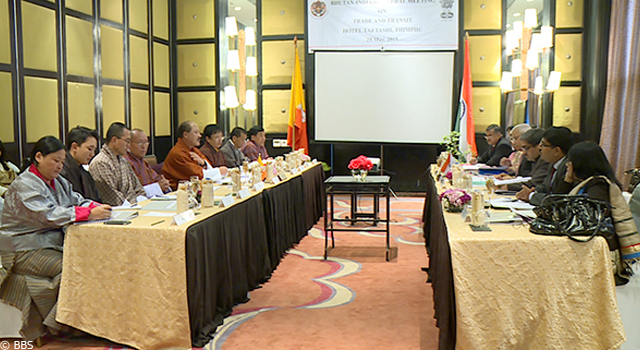 The India-Bhutan Bilateral Trade and Transit Meeting was held in Thimphu, Bhutan from 25-27 May 2015 to create a trade value chain between India and Bhutan and remove bottlenecks impeding trade flows. Such trade and transit talks are held regularly between the two countries and strengthen bilateral trade cooperation. The meeting resolved some pending issues from last year's meeting.
Discussions from January 2014 on entry/exit focused on three possible points, requested by Bhutan and approved by India – Loksan and Nagarkata bordering Samtse, and Kulkuli bordering Lhamoizingkha. Another four potential entry/exit points remain for future discussion. 
Bhutan also requested three additional railway points during the January 2014 meeting as Raxual, India was congested. India will explore the possibility of a railway point in Nautanwa in Utter Pradesh. 
India and Bhutan further agreed on the need to expedite the development of two alternate routes to Phuentsholing and Samdrup Jonghar industrial estates. Direct access to these two industrial estates will reduce transportation costs, congestion, and pollution in towns. 
India subsequently highlighted the scope for greater bilateral cooperation in the services sector, especially in information technology related services and solar energy. A trade and services agreement was tabled.  
Shri Rajeev Kher, Commerce Secretary, Ministry of Commerce and Industry led the Indian delegation, while the Bhutanese delegation was headed by Sonam P. Wangdi, Officiating Secretary, Ministry of Economic Affairs, Royal Government of Bhutan.
Related Links:
Press Release: India-Bhutan Bilateral Trade and Transit Meeting
Bhutan and India discuss exit/entry points
Indo-Bhutan trade transcends diplomatic ties