Seminar Highlights Sri City's Development Model
5 June 2015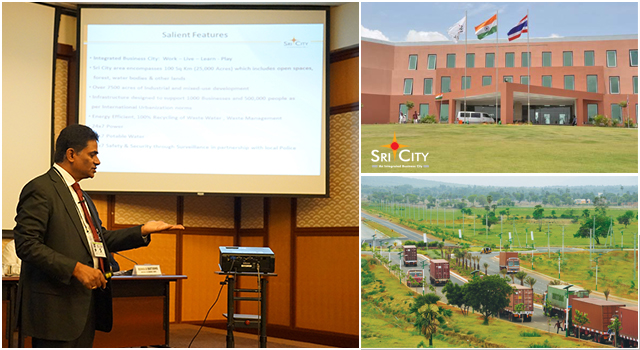 The Asian Development Bank's South Asia Department and the Urban Sector Group co-hosted a South Asia Seminar Series on Economic Corridor Development on 5 June 2015 with Mr. Srini Raju, Chairman and Founder of Sri City, as guest speaker. The seminar aimed to highlight the significance of economic corridor development as a strategy to spur industrial development, economic growth and employment generation.
Sri City is a premiere integrated business city in India, strategically located 55 kilometers (km) north of Chennai close to the border of Andhra Pradesh and Tamil Nadu, and spanning an area of over 100 sq km. It has successfully attracted over 100 firms from 25 countries since its inception in 2008, and embodies the Government of India's "Make in India" campaign, which aims to help transform the country into a global manufacturing hub.
Mr. Raju highlighted Sri City's development philosophy of "Work-Live-Learn-Play", which is structured around pursuit of industrial growth through providing resident and prospective businesses with world class infrastructure and an enabling business climate. Quality of life is simultaneously supported by the creation of social infrastructure and opportunities for skills development. His presentation generated active interest from the audience, leading to a discussion on financing, site promotion, safeguards, regulations and governance of Sri City.
Sri City's development model is aligned with the objectives of economic corridor development unfolding in India, in particular, the Vizag-Chennai Industrial Corridor (VCIC) project. VCIC, India's first coastal economic corridor, aims to create a well-planned industrial base equipped with world class infrastructure and streamlined business regulations in the south eastern region of India. With its natural advantage of a long, strategic coastline, VCIC is further envisaged to become an international gateway effectively linking India with global value chains, especially those of East and Southeast Asia.