Modi's Dhaka Visit Promises to Strengthen Bilateral Relations
7 June 2015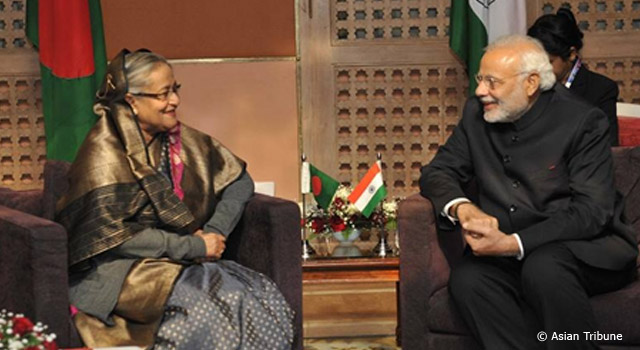 Several agreements were signed during Indian Prime Minister Narendra Modi's visit to Dhaka, Bangladesh on 6-7 June 2015. The agreements included a $2 billion line of credit, as well as others in the areas of trade, connectivity, and cooperation in power supply. The two-day visit further strengthened bilateral relations between the two neighboring countries. 
On connectivity, Prime Minister Modi inaugurated new bus routes connecting Agartala-Dhaka-Kolkata and Guwahati-Shillong-Dhaka, while Bangladesh has approved a five-year extension of a water transit protocol. India also discussed longer-term development of a deep-sea port. The proposed Motor Vehicles Agreement between Bangladesh, Bhutan, India, and Nepal is a first step in cooperation between the four countries. 
In power supply cooperation, Bangladesh currently imports 500 MW from India and new transmission lines are set to increase this to 1,100 MW by 2017. The South Asia Subregional Economic Cooperation Program supports the efforts of Bangladesh and India to establish cross-border interconnection between the western electrical grid of Bangladesh and the eastern electrical grid of India, facilitating the exchange of electricity between the two countries. 
Overall, India and Bangladesh inked 22 agreements, including the establishment of a Special Economic Zone on 600 acres of land near the Bangladesh-India border.
Ahead of Prime Minister Modi's visit to Bangladesh, India's Ministry of Commerce and Industry permitted trading of locally-produced goods in border haats at Kamalasagar in Tripura and Tarapur Kasba in Bangladesh. The commodities include locally produced vegetables; food items; fruits; spices; small-scale local produce such as bamboo; products of local cottage industries such as gamcha and lungi; garments; and processed food items, among others.
Related Links:
Great expectations in Dhaka: Modi has an opportunity to reboot India-Bangladesh relations after many erratic flip-flops
Several agreements likely during Modi's Dhaka visit
Government allows goods trading at border haats with Bangladesh
Bus services to north-east via Dhaka flagged off 
PM Modi's visit to Bangladesh has set the tone for future cooperation to bring two countries event closer