India-Bangladesh Protocol on Inland Water Transit and Trade Potential
13 May 2015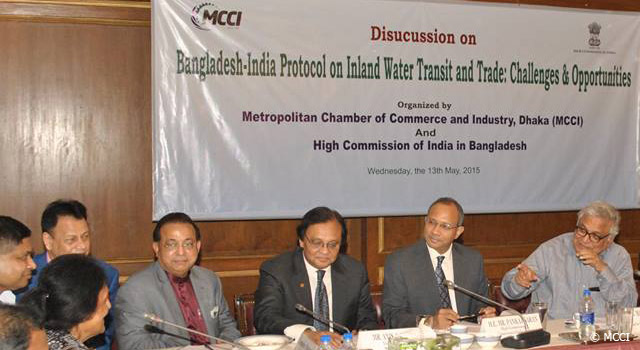 At the seminar on 'Bangladesh-India Protocol on Inland Water Transit and Trade: Challenges and Opportunities', held in Dhaka, Bangladesh on 13 May 2015, policy and economic experts urged the two governments to remove navigation problems, reform customs procedures, develop ports, address lack of infrastructure facilities, and resolve policy constraints to tap into the potential of inland water transit. 
Effective trade cooperation and the introduction of multimodal transit could significantly help the potential of India-Bangladesh Protocol on Inland Water Transit and Trade (PIWTT) be realized. PIWTT – in which inland vessels of one country can transit through specified routes of another country – offers a huge opportunity for faster growth of bilateral trade by dredging up drying river channels to harness trade and commerce. 
To make inland waterways more effective, Prime Minister's Economic Affairs Adviser Dr. Mashiur Rahman highlighted the need to develop a multimodal transport system, remove tariff and para-tariff barriers, and strengthen bilateral economic relations. Dr. Rahman also stressed that mutual cooperation is needed to overcome barriers and settle bilateral issues. He further added that movement of cargo ships within country territories for transportation of goods at lower cost could help boost trade between Bangladesh and India.
The Government of Bangladesh has started development of railways and waterways infrastructure – both countries can jointly invest in and mutually benefit from the development of waterways infrastructure. The renewal of the PIWTT for the next five years will also offer an opportunity for cooperation. 
The Metropolitan Chamber of Commerce and Industry and Indian High Commission in Dhaka jointly organized the seminar. 
Related Links:
Water transit offers immense Indo-BD trade opportunities 
Mashiur for multimodal transit to exploit potentials of Indo-Bangla protocol