Relief and Rehabilitation Efforts in India-Nepal Border Towns, through Partnership with Nepal Forum
5 May 2015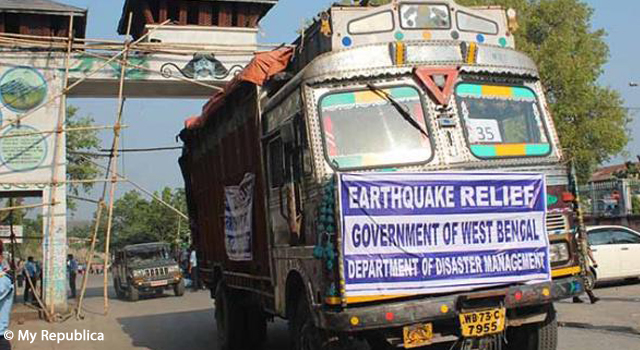 More than 170 tons of relief goods—including tents, tarpaulins, blankets, and dry food—was sent by India to Nepal using the rail route from Old Delhi to Raxaul, a town near the India-Nepal border, in response to the 25 April 2015 earthquake in Nepal. Senior officials of India's National Disaster Management Authority supervised this relief effort.
The immediate response of India's National Disaster Management Authority, as well as the National Disaster Response Force who responded within the first 90 hours, was critical in the wake of the earthquake.
India's West Bengal Government gave assistance by coordinating needed relief items with the Government of Nepal and the Nepal Army. West Bengal Chief Minister Mamata Banerjee flew to the India-Nepal border town of Panitanki in Siliguri, India—initially to flag off trucks carrying relief goods—but decided to walk from Panitanki to Kakarbhitta, Nepal, a distance of about one kilometer, to formally hand over the goods from India.
Partnership with Nepal Forum Held at ADB Annual Meeting
Dr. Ram Sharan Mahat, Finance Minister of Nepal, presented the current state of rescue, rehabilitation, and reconstruction at the Partnership with Nepal Forum in Baku, Azerbaijan on 3 May 2015. Rescue is being led by the Council of Ministers, aided by the Nepal Army. Several NGOs and philanthropic agencies within the country and abroad also dispatched tents, medicines, food, and water in an ongoing relief program in coordination with the Government.
Alongside continuous relief efforts, the Government scaled up preparation for the country's rehabilitation and reconstruction by establishing a National Reconstruction Fund of $2 billion—with the Government earmarking $200 million from its own resources for immediate rebuilding of vital lost infrastructures, individual homes, and heritage sites, and appealed to its development partners for additional support.
The Government urgently needs to prepare shelter for about half a million people with the monsoon rains coming in less than two months, and explore options for low-cost housing, rehabilitate roads and bridges, and reinstate schools and health posts. Dr. Mahat highlighted Nepal's experience in making schools earthquake-resistant through a project piloted by ADB, which rebuilt and retrofitted around 200 public schools which withstood the tremors.
The crisis has been a wake up call for the country in effectiveness of disaster response, pattern of urban growth and architecture, and use and availability of public spaces. While the earthquake might have set Nepal back on the development front, it looks forward to rebuilding the country – and rebuilding it better.
ADB also released $3 million grant to support humanitarian efforts in earthquake-hit areas, and announced it will provide up to $200 million additional resources for reconstruction. In addition, ADB can reallocate up to $300 million of funding from existing projects in Nepal.

Related Links: