WCO Secretary General and WTO Director General Attend ADB Forum
21 May 2015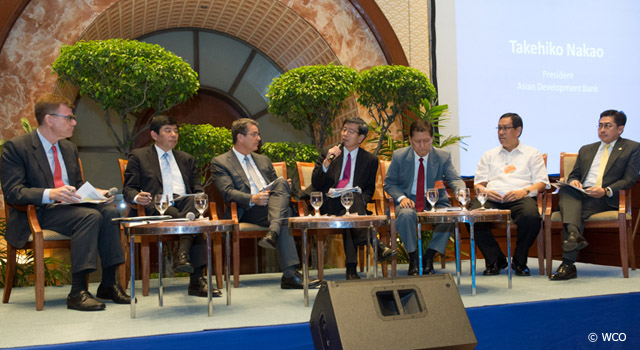 World Customs Organization (WCO) Secretary General Kunio Mikuriya and World Trade Organization (WTO) Director General Roberto Azevêdo spoke at the Asian Development Bank (ADB) Beyond Tariffs Forum in Manila on 21 May 2015. Director General Azevêdo outlined the origins of the WTO Agreement on Trade Facilitation (TFA) – a major outcome of the Doha Development Round – with the potential to deliver tangible results to developing countries. Secretary General Mikuriya spoke about WCO's collaborative approach with the WTO in TFA implementation. 
Director General Azevêdo further stressed the importance of cooperation with the WCO to capitalize on its expertise in implementing the Agreement. He also spoke about the impact of a possible shift to a more balanced equilibrium in the traditional 'two-to-one' ratio between trade growth and economic growth, due to structural changes in domestic consumption in emerging economies. 
Meanwhile, Secretary General Mikuriya spoke about WCO support for regional integration, including enhanced border connectivity through implementation of global standards, such as the Revised Kyoto Convention (RKC). The RKC provides support to the multilateral trading system. 
ADB and WCO cooperation was also highlighted in infrastructure investment at borders, incorporating best practices on border procedures. ADB President Nakao spoke on the need to support trade creation as a source of economic growth. 
Over 100 participants attended the Forum, which included panel discussions on global trade policy negotiations and practical efforts made by Customs on the ground. 
Related Link: