Bhutan Prime Minister Visits Sri Lanka, Discusses Aviation
12 April 2015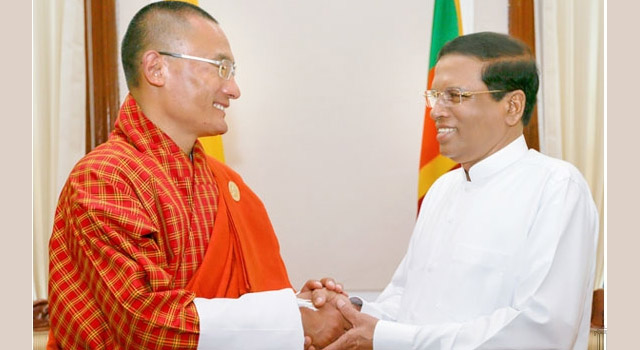 Prime Minister Tshering Tobgay concluded his 4-day official visit to Sri Lanka on 12 April 2015. Sri Lankan President Maithripala Sirisena, accompanied by several Cabinet Ministers, engaged in bilateral talks with the visiting Prime Minister and Bhutanese delegation. Both countries pledged to enhance bilateral cooperation and establish air links between Paro and Colombo by Druk Air, Bhutan's national carrier. 
The two leaders emphasized the need to finalize the bilateral Air Services Agreement currently being negotiated. Sri Lanka invited Bhutan Airlines to commence flights to Sri Lanka and enhance economic relations, tourism, and inter-regional and intra-regional air connectivity. Discussions also included education and human resources development, health, and cultural cooperation, including regional and multilateral initiatives to further enhance engagement. 
A ceremonial welcome with a guard of honor and 19 gun salutes greeted the Prime Minister of Bhutan on 10 April 2015 at the Presidential Secretariat. Prime Minister Ranil Wickremesinghe hosted a working luncheon in honor of the visiting Bhutanese leader while President Sirisena hosted a state banquet for Lyonchoen Tobgay. 
President Sirisena thanked Bhutan for the cooperation extended to Sri Lanka at the United Nations and other international bodies. Both countries acknowledged their common spiritual and cultural bond of Buddhism and viewed the visit as having contributed to strengthening already cordial relations between Sri Lanka and Bhutan. 
Related Links:
Bhutan Prime Minister Tshering Tobgay Concludes Visit to Sri Lanka
PM Discusses Health, Education and Tourism with Sri Lanka
Air Links between Bhutan and Sri Lanka