Bhutan High-Level Workshop to Improve National Competitiveness
23 March 2015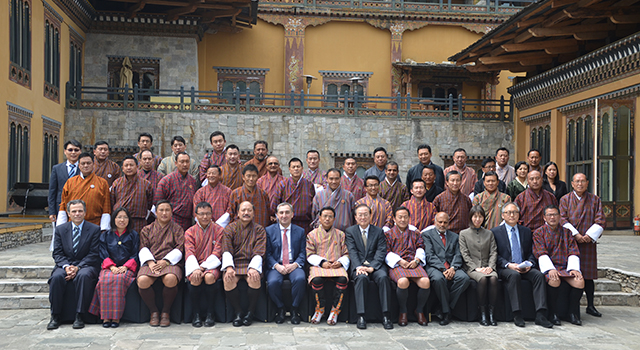 The Better Business Council High-Level Workshop on Improving National Competitiveness was held in Thimphu, Bhutan on 23 March 2015, providing a platform for Bhutan to learn from the experience of the Republic of Georgia and the Republic of Korea (ROK) how to improve their national business climate and international trade. The Better Business Council meets monthly to discuss and draft the Government's Private Sector Development Plan and maintain dialogue with the private sector.
During the workshop, Mr. Nika Gilauri, former Prime Minister of Georgia spoke about Georgia's economic transformation from an inefficient and corruption-burdened economy to a more streamlined bureaucracy with impressive growth. Mr. Gilauri emphasized that reforms should be adapted to a country's unique circumstances. Mr. Taeho Park, former Trade Minister of ROK also shared his country's industrialization experience and the benefits of trade liberalization, foreign direct investment, and export promotion. Mr. Gilauri emphasized that reforms should be adapted to a country's unique circumstances He further advised policymakers in Bhutan to consider opening up its economy, diversifying its trading partners, and accelerating its World Trade Organization accession.
The Doing Business Steering Committee was also formed in April 2014 to respond to Bhutan's low ranking in the International Finance Corporation/World Bank Group's Ease of Doing Business ranking — 141 out of 189 countries in 2014. Bhutan aims to improve its ranking over the coming two years to within the top 100. The committee is chaired by the Prime Minister with 10 ministers as members, each with the responsibility to oversee reforms in improving one indicator out of the 10 Doing Business indicators. Their activities will be complemented by technical work done by the Bhutan Doing Business Task Force.
Related Links: