Dagachhu Hydropower Project Running at Full Capacity
15 March 2015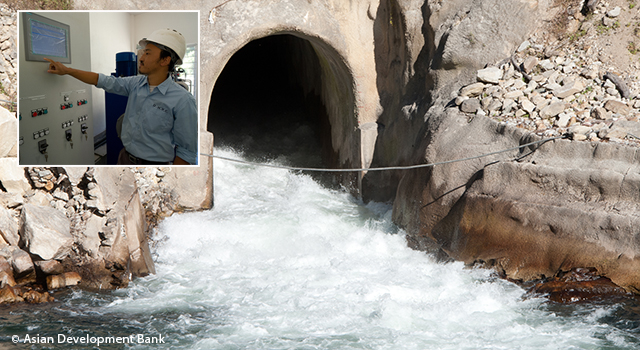 The 126 megawatt (MW) Dagachhu hydropower plant is now fully commissioned, with the successful run of the second 63MW unit test on 15 March 2015.
The Dagachhu hydropower project—a joint venture between Druk Green Power Corporation of Bhutan and the Tata Power Company Limited (TPTCL) of India—has a 25-year power purchase agreement to export power from Bhutan to India.
Increasing energy generation from hydropower sources is included in TPTCL's clean energy generation strategy, according to TPTCL CEO and Managing Director, Mr. Anil Sardana. By generating 20-25% of its total capacity from clean and renewable energy sources, TPTCL lowers its carbon footprint.
The Asian Development Bank (ADB), under the South Asia Subregional Economic Cooperation (SASEC) program, funded construction of Dagachhu hydropower plant through the Green Power Development Project, a $145 million loan and grant package approved in 2008. The project supports economic growth in the subregion by promoting cross-border power trade of clean energy between Bhutan and India, and increasing renewable energy access for people living in Bhutan's remote rural areas.
The Dagachhu hydropower project received the US Treasury Department's Development Impact Honors in 2013 for being the world's first certified cross-border clean development mechanism.
Related Links: