Nepal International Trade Fair Highlights 19 Export Products
16 March 2015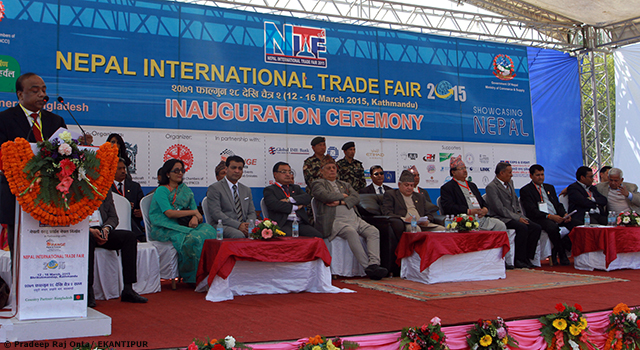 The Federation of Nepalese Chambers of Commerce and Industry (FNCCI) and Ministry of Commerce and Supplies (MoCS) jointly organized the fourth Nepal International Trade Fair from 12-16 March 2015 in Kathmandu, Nepal. The fair highlighted Nepal's 19 priority export products, including products in hydropower, information technology, agro-food, construction, education, pharmaceuticals, iron and steel, and handicrafts identified by the Nepal Trade Integration Strategy (NTIS) at the national pavilion with the theme "Showcasing Nepal."
Bangladesh, Nepal's country partner for the event, exhibited ready-made garments and other products and services through 92 stalls at the international pavilion. They were joined by traders from other countries in the South Asian Association for Regional Cooperation (SAARC) region—Bhutan, India, and Pakistan, as well as traders from China, Malaysia, and Taiwan. A total of 340 stalls exhibited a variety of goods for 5 days, drawing 125,000 visitors, and recorded sales worth over $1.9 million.
Through the fair, FNCCI hopes to slash Nepal's trade deficit by increasing exports of local products in the domestic and international markets. Mr. Bidur Chandra Lamichhane, Assistant Director of FNCCI and fair coordinator, noted in a press interview that the event successfully promoted Nepal's products to traders from other countries.
The next Nepal International Trade Fair is scheduled for February 2016.
Related Links: