New Lease to Subregional Cooperation in South Asia
23 February 2015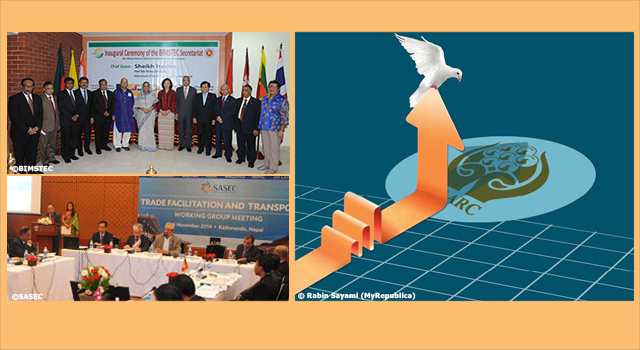 In the February 2015 issue of SAARC BIZ—official newsletter of the South Asian Association for Regional Cooperation (SAARC) Chamber of Commerce and Industry—Mr. Saurabh Kaushik, research intern for the Institute for Peace and Conflict Studies (IPCS), examines the trend toward subregional cooperation in South Asia.
Mr. Kaushik questions whether subregional cooperation is gaining momentum in South Asia, with India Prime Minister Narendra Modi appearing intent to forge regional integration in South Asia through the subregional route after the missed opportunity to arrive at a consensus at the 18th SAARC Summit in Kathmandu, Nepal.
After tracing the lack of significant outcomes from subregional groupings in the region, including the India Bangladesh Myanmar Sub-Regional Cooperation (IBM-SRC), Bay of Bengal Initiative for Multi-Sectoral Technical and Economic Cooperation (BIMSTEC), and South Asia Sub-regional Economic Cooperation (SASEC), to related domestic, political, foreign policy, and economic factors, Mr. Kaushik focuses on the "silver linings" on the horizon for sub-regional economic integration in South Asia:
South Asian economic cooperation—with trade volume still a mere 5% among SAARC member states—is seeing re-energized leadership through India's "Look East" policy. With Prime Minister Modi at the helm, India has become more proactive in revising the tariff and non-tariff barriers it has imposed on its neighbors.
The Asian Development Bank (ADB), under the SASEC program, is developing infrastructure and working toward improving border trade facilities. A total of 73 projects (loans, grants, and technical assistance), including five in 2014, amounting to US$ 6.56 billion has been commissioned to resolve major roadblocks to enhanced economic cooperation. This year, SASEC has also facilitated meetings between Transport Secretaries of Bangladesh, Bhutan, India and Nepal (BBIN) to discuss Regional Road Transport Connectivity, with a series of similar dialogues set over the course of the year—reflecting the "subregional route" toward regional integration in South Asia.
Reverting to his earlier question, Mr. Kaushik ends the analysis by writing "there is good reason to be hopeful. Sub-regional cooperation may finally have gotten a new lease of life, and we will be witness to its promise."
Related Links: