India Announces Foreign Aid to Neighbors
1 March 2015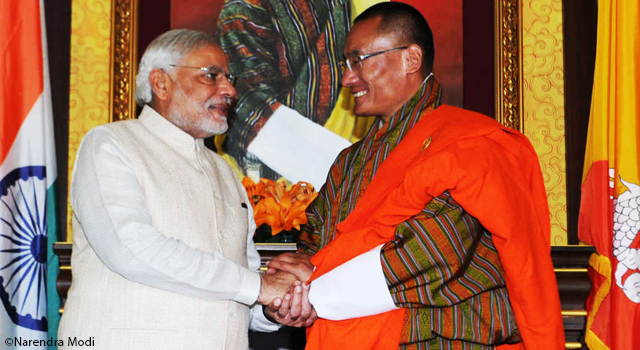 India announced more grant aid to developing countries, including neighbors in the South Asian region, during the unveiling of Prime Minister Narendra Modi's full year budget for 2015-2016 on 28 February 2015. The majority of this grant financing will go toward various development assistance projects already being implemented.
84% of the total aid amount of $1.6 billion has been allocated to India's fellow members in the South Asian Association for Regional Cooperation (SAARC). Bhutan will receive the largest single amount of $981 million. Afghanistan will receive $108 million grant, Sri Lanka—following renewed ties with India after the election of Sri Lanka President Maithripala Sirisena—will receive $80 million, and Nepal $67 million—an increase of 40% from this fiscal year, while Bangladesh will receive around $40 million, and the Maldives, about $29 million.
Bhutan's allocation saw an increase of 26%, and will mostly be used to continue developing the country's hydropower sector to meet the target of exporting 10,000 megawatts of power to India by 2020.
The aid announced for Sri Lanka will target infrastructure and development projects. This precedes an additional line of credit Prime Minister Modi is expected to extend to Sri Lanka when he meets with President Sirisena during a planned visit in March 2015.
Grant aid to Nepal will support projects in the transport, energy, health, and water sectors. Ongoing transport infrastructure projects in the India-Nepal border areas aim to boost bilateral trade between the two countries, including at border check posts being constructed in Raxaul-Birganj, Sunauli-Bhairahawa, Jogbani-Biratnagar and Nepalganj Road-Nepalgunj areas; postal roads connecting Nepal-India border and East-West Highway; and cross-border railway links at five locations (Jayanagar-Bardibas, Jogbani-Biratnagar, Nautanwa-Bhairahawa, Rupaidiha-Nepalgunj and New Jalpaiguri-Kakarbhitta). This 2015 allocation to Nepal follows a $1 billion line of credit announced during Prime Minister Modi's visit to Nepal in 2014.
Related Links: