Bangladesh-Nepal Expo 2015 Showcases Potential Areas of Trade
15 February 2015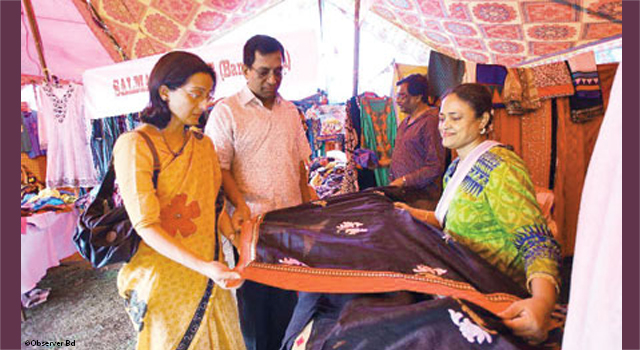 The first Bangladesh-Nepal Expo 2015 ran from 11-15 February 2015 in Kathmandu, Nepal, and attracted about 100 private businesses and more than 10,000 visitors. About 80 businesses from Bangladesh and 20 Nepali enterprises showcased handicrafts, textiles, pharmaceuticals, herbal products, information technology, educational institutions, ready-made garments, boutiques, frozen sea foods, confectionery, beverages, ceramic products, and cosmetics.
Nepal Minister for Commerce and Supplies, Mr. Sunil Bahadur Thapa, expressed optimism about Bangladesh-Nepal bilateral relations, describing the trade fair as a way of strengthening relations. He added that the Government of Nepal is currently in the process of drafting a new trade agreement with Bangladesh to facilitate trade in products and services between the two countries.
Ms. Mashfee Binte Shams, Ambassador of Bangladesh to Nepal, remarked that the Expo showcases the wide variety of products Nepal's business community can source from Bangladesh. The fair opens potential areas of trade and encourages entrepreneurs from both countries to create business linkages with each other.
The Expo was organized by the Embassy of Bangladesh in Nepal, together with Synthesis and WREN Networking.
Trade volume between Bangladesh and Nepal stands at a modest estimated $40 million. Both countries are members of the South Asian Association for Regional Cooperation (SAARC) and the Asian Development Bank (ADB)-supported South Asia Subregional Economic Cooperation (SASEC) program. SASEC, through its priority sectors of energy, transport, and trade facilitation, supports SAARC initiatives to increase intra-regional trade and boost cross-border connectivity among countries in the subregion comprising Bangladesh, Bhutan, India, the Maldives, Nepal, and Sri Lanka.

Related Links: