India-Sri Lanka Bilateral Talks to Deepen Economic Ties
16 February 2015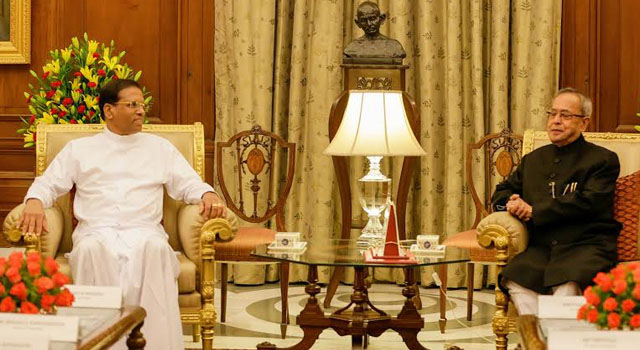 Sri Lankan President Maithripala Sirisena's recent visit to India after assuming office last month allows both countries to adopt a fresh approach to bilateral ties. New leadership in both New Delhi and Colombo has the potential for economic cooperation in development, commerce, and trade. According to Prime Minister Narendra Modi, India is proud to be a trade partner of Sri Lanka and plans to take bilateral relations to a new level. 
Indian President Pranab Mukherjee hosted a banquet for the visiting Sri Lankan President, where he delivered a speech that focused on strengthening bilateral relations. He noted that the first Free Trade Agreement India signed with any country was with Sri Lanka. "India is privileged to be a partner in Sri Lanka's development efforts, focusing on capacity building, human resource development, and infrastructure support. I am delighted that the flagship Indian Housing Project in Sri Lanka continues to make excellent progress. The recommencement of the iconic 'Yal Devi' train service, after three decades, between Jaffna and Colombo through the Indian-assisted Northern Railway Rehabilitation project is a matter of particular satisfaction," he added.
Meanwhile, President Sirisena calls his first official visit to India successful and fruitful – a contribution to the developing and ensuing friendship between the two countries. He eagerly awaits Prime Minister Modi's arrival in Sri Lanka in March.


Related Links:
Golden Opportunity: Modi-Sirisena partnership must boost India-Sri Lanka ties to meet common challenges
SL and India agree to enhance defence ties
'We have already established a good beginning towards future progress' – President
A vast vista of cooperation beckons us – Indian President tells Sri Lankan President