Nepali-language Version of Revised Kyoto Convention Published
26 January 2015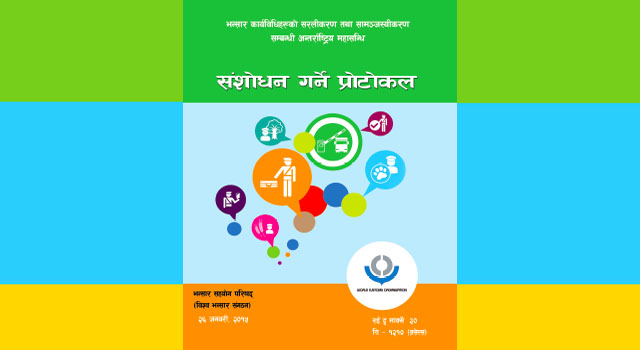 Nepal is currently in an advanced stage of acceding to the Revised Kyoto Convention (RKC) through submission of its Instrument of Accession to the World Customs Organization. In support of Nepal's accession and future implementation of the provisions of the RKC, a Nepali-language translation has been published under the ADB-financed SASEC Trade Facilitation Program and launched during the 63rd International Customs Day on 26 January 2015. Two thousand copies of the translation are being distributed to Customs posts and offices throughout the nation.
The RKC is a blueprint for Customs reform, and the Nepali-language version will assist Nepal's Department of Customs to align its Customs Act and associated regulations with RKC standards, enhance efficiency and effectiveness of the Customs administration, and facilitate trade through more transparent Customs procedures.

The standards of the RKC in the General Annex and Specific Annexes include duty collection, Customs control, information technology usage, and Customs clearance, among others. According to Mr. Shishir Kumar Dhungana, Director General, Nepal Department of Customs, Nepal's Customs Act and associated regulations already include most of the RKC General Annex standards, but the remaining standards still need to be gradually brought into the Customs Act and associated regulations. Publication of this translated version of the RKC is an important step before the accession proposal can be submitted for consideration by Nepal's legislature.
Honorable Dr. Ram Sharan Mahat, Finance Minister of Nepal, unveiled the Customs Journal and the Nepali-language version of the RKC at the International Customs Day celebration in Kathmandu. He also highlighted the role of Customs in nation building, and showed strong commitment to Customs reform and modernization. At the celebration, World Customs Organization merit certificates were awarded to Customs officers and agents. The program was attended by Minister Mahat, Mr. Rajan Khanal, Acting Finance Secretary, Director General, and other high ranking officials from different departments under the Ministry of Finance.
Related Links: 
Publication (Nepali-language translation)
SASEC Celebrates International Customs Day