Asian Development Bank to Give $1 Billion Credit to Improve Nepal's Infrastructure
4 February 2015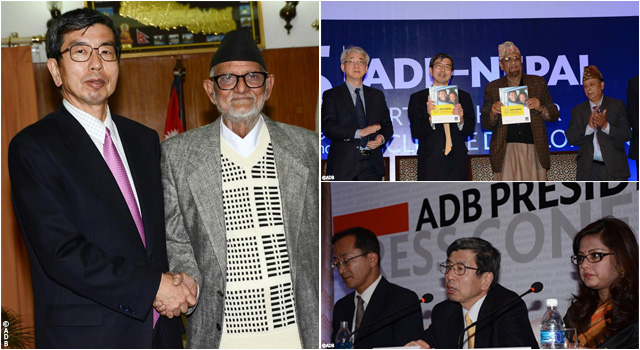 Asian Development Bank (ADB) President Takehiko Nakao called on Nepal Prime Minister Sushil Koirala on 3 February 2015 during a visit to Nepal, and met with Finance Minister Ram Sharan Mahat and National Planning Commission Vice Chairperson Govinda Pokharel. ADB plans to provide about $1 billion in concessional loans and about $13 million in technical assistance grants to Nepal over the next three years to support faster and more inclusive growth in the country.
At a press conference on 4 Feb 2015, ADB Country Director for Nepal Kenichi Yokoyama, together with ADB President Nakao said that the multilateral development bank is shifting to financing larger projects with meaningful impact. An estimated 80% of the $1 billion credit from ADB will be allocated to improve the country's infrastructure sector, notably on energy and transport. These planned projects will boost cooperation in the region, promoting Nepal's energy exports by increasing hydropower generation and transmission, strengthening the region's multimodal transport connectivity through a planned international airport expansion, and enhancing intraregional trade through strengthening trade facilitation capacity.
ADB continuously supports development of hydropower projects and related transmission infrastructure in Nepal under the South Asia Subregional Economic Cooperation (SASEC) program to narrow Nepal's power deficit. ADB also helps the Government attract private sector investment and public-private partnerships for large-scale hydropower and transmission projects by supporting tariff reform, improving the institutional capacity and financial health of the Nepal Electricity Authority, and strengthening the sector's regulatory framework.
During his visit, Mr. Nakao urged the country to focus on eight areas to achieve economic development: investment infrastructure, investing in people's health and education, macro-economic stability, good investment climate, governance, inclusiveness, vision at the policy level and political stability and security. He commended the economic reform program being implemented by the Government to attract private sector investment, and said that effective implementation of these reforms will be crucial for Nepal to surpass the 4% average annual rate achieved in the past decade, and reach its economic growth potential of 7%-8% per annum. He also said ADB will provide necessary technical assistance to support the planning for a Nepal Development Vision 2030 strategy and a medium-term development plan for the country to reach middle-income status.
Mr. Nakao also noted that 2015 marks the 25th anniversary of ADB Nepal resident mission. Nepal is a founding developing member country of ADB. In total, ADB has provided 167 loans and grants to Nepal amounting $4.3 billion. Under the SASEC program, ADB has financed eight projects in Nepal, with a total of $859.3 million. Nepal is also part of the SASEC Trade Facilitation Program, a $48 million loan/grant investment, and the $18 million loan/grant SASEC Information Highway Project.

Related Links: