Motor Vehicles Deal Underway for Seamless Transport through BBIN Subregion
6 February 2015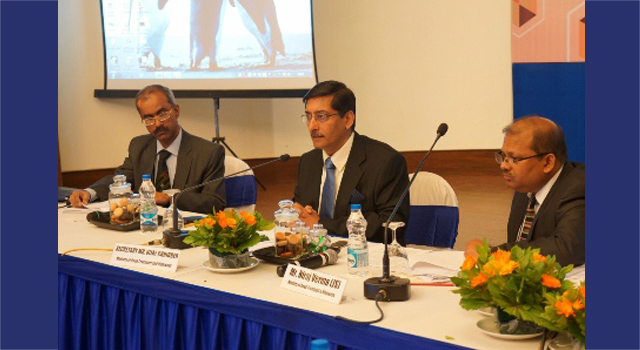 The linking of Bangladesh, Bhutan, India, and Nepal (BBIN) through a subregional Motor Vehicles Agreement (MVA) was discussed at a meeting in Kolkata, India on 2-3 February 2015 attended by transport secretaries from the four South Asia Subregional Economic Cooperation (SASEC) member countries. This agreement will enable seamless transit of passenger and goods along designated key routes in the four South Asian Association for Regional Cooperation (SAARC) countries without the need for trans-shipment at border crossing points, reducing costly and time-consuming unloading and loading of people and cargo. The agreement would help transform transport corridors linking the four countries into economic corridors and enhance people-to-people contact
The meeting, chaired by India's Road Transport and Highways Secretary Mr. Vijay Chhibber, aimed to finalize the MVA in the BBIN subregion and draft plans for its immediate implementation. Signing of the agreement is expected to take place at a meeting of transport ministers of the four countries to be held later this year.
Arrangements for implementation of the agreement will be detailed through protocols that the four neighboring countries will negotiate separately under the agreement's framework. The four countries have agreed to set up individual national committees and a sub-regional joint committee for overall facilitation of land transport, and to coordinate and monitor the agreement's implementation.
The subregional agreement is a parallel initiative to the proposed SAARC transport agreement. Membership of this subregional agreement would be open to other members of SAARC, should they wish to join.
The Asian Development Bank (ADB), through the South Asia Subregional Economic Cooperation (SASEC) program, is providing financing to build road, air, and rail networks in the region. As an initiative to promote economic cooperation in Bangladesh, Bhutan, India and Nepal, and since 2014 including the Maldives and Sri Lanka, the SASEC program is helping member countries upgrade their respective sections along the SAARC corridors and the proposed Asian Highway. To date, SASEC has implemented 23 transport projects amounting to $5.35 billion.

Related Links: