Third India-Bangladesh Border Haat Inaugurated
13 January 2015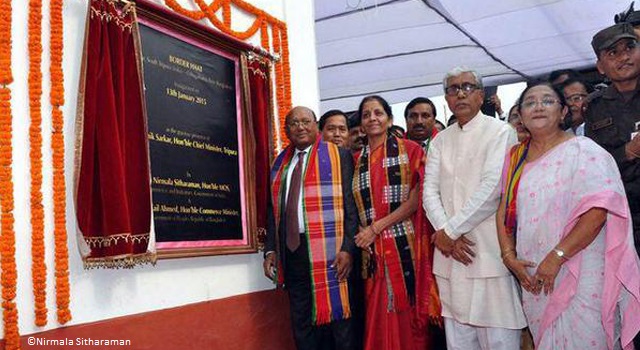 Bangladesh Commerce Minister Tofail Ahmed and India Minister for Commerce and Industry Nirmala Sitharaman jointly inaugurated the first border market ("haat") along the Tripura-Bangladesh frontier on 13 January 2015. Trade in the border market is duty-free and quota-free, and uses the currencies of both countries.
Both ministers spoke optimistically about new opportunities for trade during the inauguration ceremony. Commerce Minister Ahmed expressed Bangladesh's desire to increase its share in the Indian market, and cited the need for continuous discussions between the two governments to resolve remaining tariff and non-tariff trade barriers.
Similarly, Minister for Commerce and Industry Sitharaman said India is keen to further strengthen economic relations with Bangladesh. Highlighting that relations between the two countries will improve by enhancing trade and commerce, she encouraged diversifying trade at the haat to include products from local industries, like handicrafts, and not just limit trade to perishable goods.
Transit between India and Bangladesh via Tripura—a potential gateway in the implementation of India's "Act East" policy—was also proposed by Minister Sitharaman. Tripura Chief Minister Manik Sarkar, also present at the inauguration, mentioned India's need for access to Bangladesh's Chittagong Port and Ashuganj river port.
India and Bangladesh signed a memorandum of understanding on Border Haats and Border Trade along the India-Bangladesh border on 23 October 2010. The first two border haats in the Kurigram and Meghalaya border areas were inaugurated on July 2011 and May 2012. This third border haat is located in the Srinagar Village of Tripura, India and Purba Madhugram in Feni, Bangladesh.
Related Links: