WTO Director General Highlights TFA Benefits at CII
15 January 2015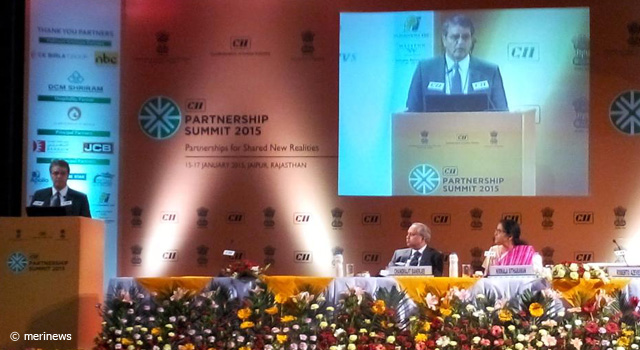 As the Confederation of Indian Industry (CII) reached its 120th year, the Partnership Summit – CII's annual flagship event – gathered over 1,000 delegates to deliberate on global economic and trade scenarios, including enhancing developing countries' ability to integrate into the world economy. This three-day event in Jaipur, Rajasthan on 15-17 January 2015 included a session on the World Trade Organization (WTO) and assessed its responsiveness to the needs of developing countries, particularly on the proliferation of free trade agreements and rising non-tariff barriers.
WTO Director General Roberto Azevêdo highlighted India's contribution to the multilateral trading system and noted the benefits of ratifying the trade facilitation agreement to Indian industries, such as better export competitiveness, reduction in trade costs by 15%, and an increase in south-south trade.
Meanwhile, India's Commerce and Industry Minister, Nirmala Sitharaman urged WTO to be more responsive to the needs of developing and least-developed countries (LDCs), particularly since LDCs only account for 1% of global trade. In his CII statement, Azevêdo responded that WTO provides developing countries and LDCs a seat at the rule-making table since they are not included in the current regional and mega-regional trade agreements.
Among representatives attending the Summit were Asian Development Bank Vice President Wencai Zhang, Organisation for Economic Co-operation and Development Deputy Secretary General William Danvers, and World Intellectual Property Organization Director General Francis Gurry.
Related Links:
Delegates of 45 nations, WTO Chief to be at CII's Jaipur summit
Mega CII summit begins today in Jaipur
WTO trade facilitation agreement to boost South-South trade: WTO Director General