Bhutan Prime Minister Tshering Tobgay Invites Green, Sustainable Investments in Bhutan
11 January 2015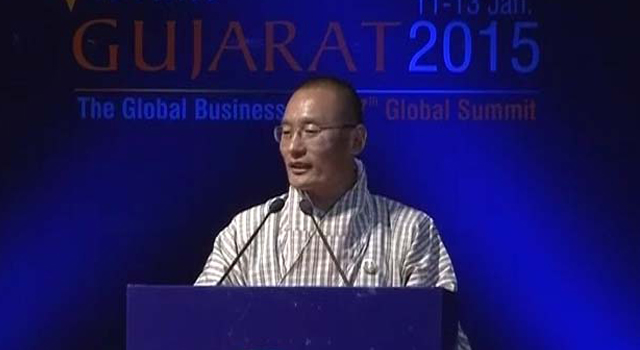 Prime Minister of Bhutan Tshering Tobgay told investors at the 7th Vibrant Gujarat Summit on 11 January 2015 that Bhutan is open to clean, green and sustainable business proposals, including investments in renewable energy and hydropower. While Bhutan's economy may be modest, the Prime Minister said it uses its resources wisely—fast flowing rivers are a source of renewable energy, agriculture is mostly natural or fully organic—without destroying the environment. This approach has allowed his country to enjoy remarkable economic successes, while remaining carbon neutral and preserving its national parks and wildlife sanctuaries. He further emphasized that Bhutan gives more value to gross national happiness (GNH) than to gross domestic product (GDP), and extended an invitation among those interested in doing value-based business to invest in Bhutan.
He also met with Indian Prime Minister Modi on the sidelines of the Vibrant Gujarat Summit on 10 January 2015. The two leaders discussed matters of mutual interest, including cooperation in the hydropower sector. Ten hydropower projects with a combined capacity of over 6400 MW by 2022-2023 will be implemented in Bhutan with India's assistance.
The Asian Development Bank recently approved the Second Green Power Development Project in Bhutan under the South Asia Subregional Economic Cooperation (SASEC) program. This project will develop Bhutan's Nikachhu hydropower plant—a run-of-the-river hydropower plant—in a package of loans and grants amounting to $120.5 million through a public-private partnership. Total project cost is estimated at the equivalent of $139.36 million, with additional financing of $58.82 million through syndicated loan from a consortium of Indian commercial banks. This co-financing is the first foreign commercial borrowing without government credit support in Bhutan's power sector, indicating rising confidence among banks to lend for energy projects in the hydropower-rich country.

Related Links: