Prime Minister Modi Vows to Make India Easiest Business Destination
11 January 2015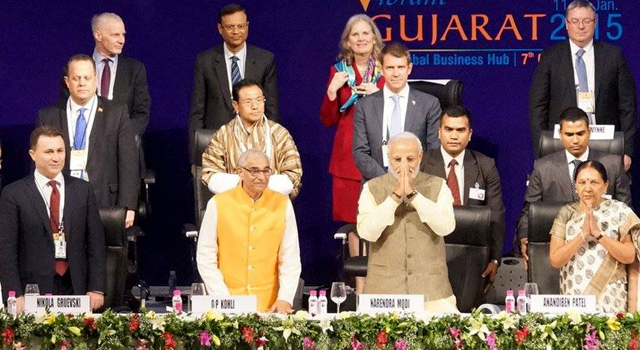 Indian Prime Minister Narendra Modi promised to make India the easiest destination to do business with at the inauguration of the Vibrant Gujarat Summit on 11 January 2015. With global leaders including US Secretary of State John Kerry, UN Secretary General Ban Ki-moon and World Bank head Jim Yong Kim, and foreign investors in attendance, he highlighted India's investor-friendly climate, and emphasized manufacturing as critical in boosting the economy and generating jobs. According to Prime Minister Modi, India is working to upgrade its manufacturing infrastructure by modernizing ports and improving road and rail connectivity for port-led development through public and private investments. He also said dedicated freight and industrial corridors are included in the government's plan.
Addressing the ongoing concern regarding ease of doing business in India—the country ranks 142 out of 189 in the World Bank's latest Ease of Doing Business Index—Prime Minister Modi said they plan to set up a single window clearance for projects at both central and state level. His goal is for India to rise to the top 50 of the World Bank index.
A Single Window is a facility that will allow investors to submit standardized required clearances through a single entry point, an online portal. This move—with an initial planned launch of April 2015—aims to cut down unnecessary red tape, to invigorate the investment climate in India and increase confidence among investors.
Developing National Single Windows is part of the strategic thrusts of the SASEC Trade Facilitation Program currently being implemented in Bangladesh, Bhutan, and Nepal. Through this program, SASEC aims to reduce or remove non-tariff barriers to increase intraregional trade among SASEC countries.
Related Links: