Bhutan Trucks May Now Enter Bangladesh
9 December 2014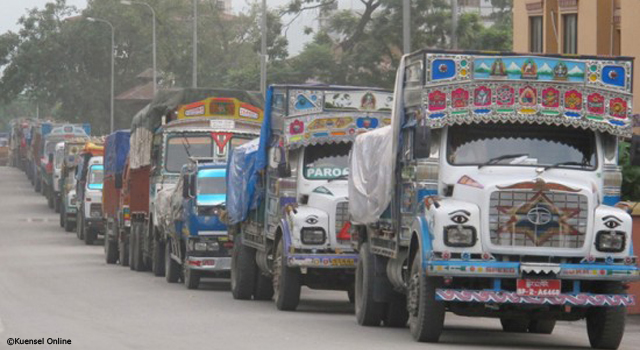 Bhutanese trucks carrying import/export cargo are now able to enter Bangladesh via India, according to Bangladesh Commerce Minister Tofail Ahmed during a visit to Bhutanese Prime Minister Tshering Tobgay on 7 December 2014. Most import/export activity between Bhutan and Bangladesh takes place through Bangladesh's Burimari land port, on the Bangladesh-India border — about 117km away from Phuentsholing, Bhutan — and many of the Bhutanese trucks return to Bhutan without cargo from Bangladesh. The new agreement will allow trucks to carry products directly from Bangladesh for import to Bhutan.
Mr. Norbu Wangchuk, Bhutan's Minister for Economic Affairs, said the new agreement would bring down import/export costs. Currently, 45% of total costs on export products from Bhutan is incurred on transportation alone. Furthermore, the time required to complete the trade, including loading and unloading, adds to overall costs.
Bangladesh and Bhutan have sought India's cooperation in easing the movement of trucks through Indian territory to expand bilateral trade and economic relations between Bangladesh and Bhutan. Bangladesh is Bhutan's second largest export destination after India, with Bhutan's exports to Bangladesh totaling around US$17 million. However, Bhutan's imports from Bangladesh are much lower, at US$2 million.
To narrow the trade deficit, Bangladesh proposed that Bhutan import its ready-made garments, ceramic goods, raw jute, jute products, leather goods, cosmetics, chemicals, and seasonal vegetables.
While Bhutanese trucks can enter India, Bangladesh needs India's support for their trucks to reach Bhutan, says Commerce Minister Ahmed.
Bangladesh also offered Bhutan the use of Chittagong and Mongla seaports to increase trade volumes by reducing transit times. Clearing of Bhutanese products for export to Bangladesh takes around 2–3 weeks through India's Kolkata port. Using either of Bangladesh's seaports would bring down clearance times to one week.
Related Links: