Bilateral Talks Between Bangladesh and Bhutan
6 December 2014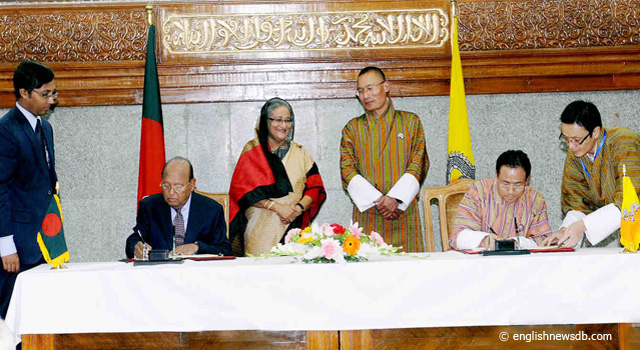 Bhutan's Prime Minister Tshering Tobgay has agreed with Bangladesh Prime Minister Sheikh Hasina to close trade gaps by exporting more goods and expanding the list of products free of tax and duty enjoyed by both countries. Bhutan's total trade volume with Bangladesh is worth about US$ 25.6 million. Bangladesh is the only country in the South Asian Association for Regional Cooperation region in which Bhutan has a trade surplus.
The two countries renewed a bilateral trade agreement on 6 December 2014, originally signed in 1980 and renewed in 2008. The agreement extends duty-free trade on 18 products free of tariff to Bhutan. Both governments also agreed to continue discussions toward a free trade agreement. The need to graduate from preferential agreement to a free trade regime was echoed by Bhutan's Economic Affairs Minister Norbu Wangchuk. The bilateral trade agreement further stipulated that future renewal of this agreement no longer requires both countries to meet.
In the energy sector, the two prime ministers agreed to continue discussing the sharing of energy and water resources among Bangladesh, Bhutan, and India. In transport, the Government of Bangladesh offered Bhutan the use of Mongla and Chittagong seaports, Lalmonirhat, and Saidpur airports, including usage of road networks. Bhutan and Bangladesh also discussed importing boulders from Bhutan for infrastructure development and ecological balance in Bangladesh.
Finally, as a gift from Bangladesh to Bhutan, Prime Minister Sheik Hasina presented a 3,200 square meter site at Baridhara to Prime Minister Tshering Tobgay for a permanent embassy to represent Bhutan. "With the permanent embassy we'll be able to represent Bhutan very well," Bhutan Foreign Minister, Rinzin Dorji said. He reaffirmed that the two countries will work closely together to reap the full benefits of mutual cooperation.
Related Links:
Bangladesh Gifts Plot for Permanent Royal Bhutan Mission in Dhaka
Bhutan and Bangladesh Discuss Free Trade
Bhutan and Bangladesh Renew Bilateral Trade Agreement
Bhutan Agrees to Narrow Trade Deficit with Bangladesh