India-Bangladesh Trade Gap Continues to Widen
19 November 2014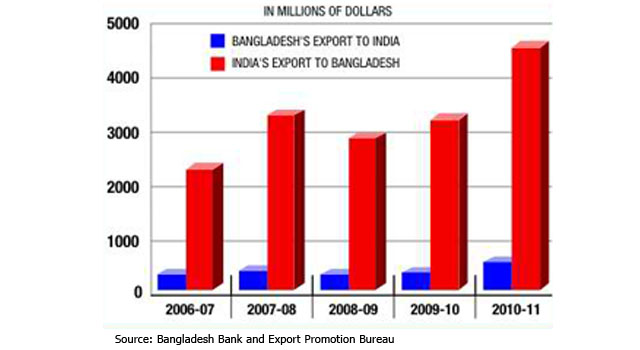 In recent decades, Bangladesh has emerged as one of the largest export markets for India in the South Asian Association for Regional Cooperation region. From 1988-1989 to 1992-1993, India's total exports increased by 164%, while the increase in imports to Bangladesh was 293%. 
In 2011-2012, India's total exports to Bangladesh reached about $5.84 billion. A significant share of imports from India includes cotton, yarn, fabrics and other inputs in Bangladesh's ready-made garment industry. Bangladesh's private sector accounts for the bulk of imports from India. 
Meanwhile, Bangladesh's exports to India are a very small percentage of its imports from India. Its traditional exports include raw jute, fish, fertilizer, apparel, leather products, cement, plastics, prepared foodstuff and beverages. While Bangladesh's global export is mostly titled towards ready-made garments (80% of total export), it accounts for only 10% of exports to India.  
During 2011-2012, Bangladesh's exports reached $584.64 million. India-Bangladesh trade has remained lopsided with a $476 million trade deficit in 1980 increasing to nearly $1.5 billion in 2003-2004 and $3 billion in 2007-2008.
Bangladesh's largest current trade deficit is with China. In 2008, trade imbalance with India was $2.8 billion, while it reached $3.8 billion with China. Bangladesh's large trade imbalance with India can affect future trade flows between the two countries. The challenge is for Bangladesh to explore opportunities in India's growing import market and further grow its share of exports so the bilateral trade deficit can be significantly reduced. 
Related Links:
Indo-Bangla Trade Gap Reaches New Height
Trade Gap with India Widens to $5.58 billion
Indo-Bangladesh Bilateral Trade Deficit: Seize the Opportunities to Reduce It