Government of Norway and ADB Co-Financing Agreement for SASEC Power Expansion Project
14 November 2014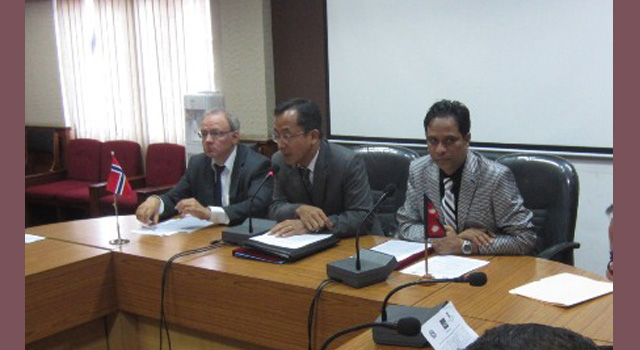 A co-financing agreement for the South Asia Subregional Economic Cooperation (SASEC) Power System Expansion Project was signed by the Asian Development Bank (ADB) and the Norwegian Ministry of Foreign Affairs on 14 November 2014 in Kathmandu, Nepal. The project will improve access to energy in Nepal by increasing electricity access through expanding domestic renewable energy transmission capacity and establishing mini-grid based renewable energy systems in rural areas. It will also improve cross-border power exchange between Nepal and India—giving Nepal the capacity to export at least 1,200 MW of electricity—by strengthening and expanding distribution networks.
Under the agreement, ADB will administer a grant of US$60 million from the Government of Norway. This complements a $180 million loan from ADB's Asian Development Fund, $120 million from the European Investment Bank, and $11.2 million grant from the ADB-administered Strategic Climate Fund. Mr. Madhu Kumar Marasini, Joint Secretary, Ministry of Finance, Government of Nepal signed on behalf of Nepal. Mr. Kenichi Yokoyama, ADB's Country Director for Nepal, represented ADB in the signing. Mr. Kjell Tormod Pettersen, Ambassador of Norway to Nepal, was also present for the occasion.
The project represents the most significant support to a single project by the Norwegian Government in the energy sector of Nepal, and contributes toward the implementation of the Sustainable Energy for All Initiative. It will also extend access to energy services to more than 70,000 households in Nepal by connecting them to the electricity distribution line in the transmission corridor—contributing to rapid reduction in poverty. Ambassador Pettersen, also believes this project will encourage private sector investment in the country.
The SASEC Power System Expansion project will be completed by 31 December 2021. The renewable energy portion of the SASEC Power System Expansion project will be implemented by the Alternative Energy Promotion Centre, while components related to power transmission and distribution network improvement activities will be implemented by Nepal Electricity Authority.

Related Links: