SAARC Moves toward Multimodal Connectivity in South Asia
21 November 2014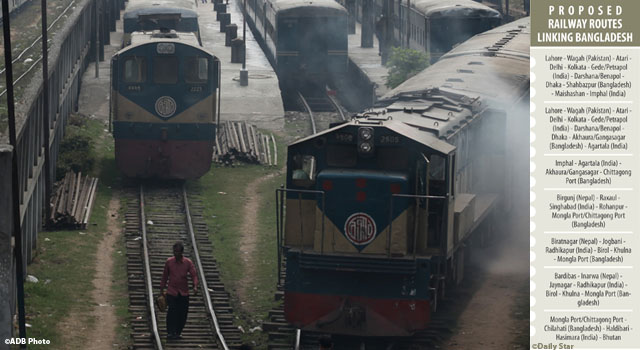 South Asian Association for Regional Cooperation (SAARC) member countries are currently working on six Memoranda of Understanding (MoUs) that will link South Asia by rail, road, air and sea, to stimulate greater trade within the region.
SAARC Motor Vehicles Agreement
The Motor Vehicles Agreement will pave the way for vehicles carrying cargo, as well as passenger and personal vehicles, to travel smoothly and more efficiently across SAARC member countries. In addition, Indian Prime Minister Narendra Modi and Nepalese Prime Minister Sushil Koirala are set to launch a direct bus service between Kathmandu and New Delhi on 25 November 2014, after bilateral talks on transport connectivity.
This multilateral agreement on motor vehicles has been under negotiation for several years. The general routes are still being finalized, but traffic volume, fees, and charges will be settled by SAARC member countries through bilateral negotiations. The agreement will also be subject for review every three years, with provisions for amendment or ratification upon review.
Regional Railways Agreement
The SAARC Regional Railways Agreement will link the rail networks of Bangladesh, Bhutan, India, Nepal, Sri Lanka, Afghanistan, and Pakistan, enabling transportation of passengers and cargo through rail links across the region. Seven of the routes will pass through Bangladesh, including Bangladesh-India-Pakistan/ Bangladesh-Nepal-India/ Bangladesh-Bhutan-India routes, boosting traffic and commercial profitability of Bangladesh Railway. In a statement, Bangladesh Cabinet Secretary Musharraf Hossain Bhuiyan said this is in line with the aim of turning Bangladesh into the "transport hub of South Asia."
Strengthened rail connectivity will enable more affordable and sustainable transportation in the SAARC region. It will also promote trade in landlocked countries and semi-isolated regions by providing economic links. Train maintenance, immigration and visa facilities, and cargo and passenger security will be undertaken by SAARC member countries.
Need for Greater Connectivity in South Asia
South Asia remains one of the least integrated regions in the world, with intraregional trade accounting for only about 5% of total trade in the region. The SAARC Regional Multi-Modal Transport Study (SRMTS)—undertaken in 2005—recommended improving transport infrastructure and linkages among SAARC countries. Among the support the Asian Development Bank provides SAARC is through the Regional Transport Development in South Asia, a technical assistance project that supported a regional transport master plan via the SRMTS, to promote investment in regional transport projects in South Asian countries.
The South Asia Subregional Economic Cooperation partnership continues to support the goal of boosting the region's economic development through its transport projects and SASEC Trade Facilitation strategy.
Related Links