Bangladesh, India, Look Forward to CEPA Negotiations, Express Satisfaction on Implementation of Development Projects
9 September 2023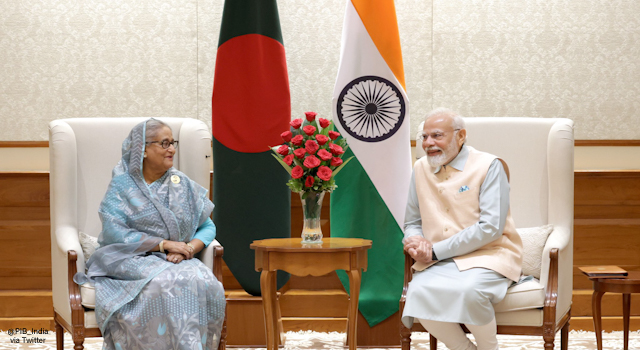 India Prime Minister Narendra Modi and Bangladesh Prime Minister Sheikh Hasina held a bilateral talk in New Delhi, India, ahead of the G20 Summit. Their talks highlighted their eagerness to begin negotiations on the Comprehensive Economic Partnership Agreement (CEPA), which will cover trade in goods and services, and protecting and promoting investment.
They also expressed satisfaction at the implementation of development cooperation projects, and looked forward to the joint inauguration of the following projects: the Agartala-Akhaura Rail Link, unit-II of the Maitri Power Plant, and the Khulna-Mongla Rail Link.
Bangladesh and India also signed three memorandums of understanding (MoUs):
MoU on cooperation in Digital Payment mechanism, signed between the National Payments Corporation of India and Bangladesh Bank;
MoU on the renewal of the Cultural Exchange Program between India and Bangladesh for 2023-2025; and
MoU between the Indian Council of Agricultural Research and the Bangladesh Agriculture Research Council.
Prime Minister Hasina and Prime Minister Modi tackled the full range of bilateral cooperation, including trade and connectivity, power and energy, development collaboration, and cultural and people-to-people linkages.


Related links
G20 Summit 2023 Delhi Highlights: India-Bangladesh sign 3 MoUs after bilateral meet
India, Bangladesh Sign 3 MoUs After Bilateral Meet Ahead Of G20 Summit