India, Sri Lanka Adopt Vision for Economic Partnership
21 July 2023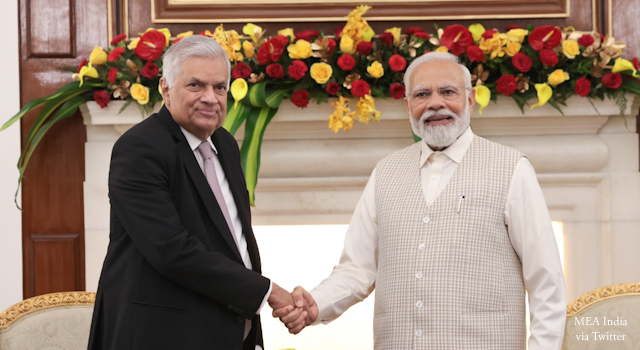 India Prime Minister Narendra Modi extended a warm welcome to Sri Lanka President Ranil Wickremesinghe during his visit to India in July 2023. Speaking at the joint press meet by the two country leaders, Prime Minister Modi reiterated that India stands alongside Sri Lanka and congratulated the people of Sri Lanka for their courage through the challenging times. The two leaders have adopted a vision document for the two countries' economic partnership that emphasizes India's long-term commitment to Sri Lanka. The partnership envisages deepening connectivity and cooperation in various sectors, including tourism, trade, and energy.
In his speech, Prime Minister Modi highlighted further deepening cooperation between the two countries, which included
Adopting a vision document for Economic Partnership, which highlights India's long-term commitment toward Sri Lanka. This vision is to (i) strengthen the Maritime, Air, Energy and people-to-people connectivity between the people of both the countries; and (ii) accelerate mutual cooperation in tourism, power, trade, higher education and skill development;
Commencing talks on the Economic and Technological Cooperation Agreement that will open new possibilities of trade and economic cooperation for both the countries;
Agreeing to enhance air connectivity and start passenger ferry services between Nagapattinam in Tamil Nadu and Kankesanthurai in Sri Lanka; and
Expediting the work of connecting their electricity grids.
President Wickremesinghe, in his address, reiterated that "the present time is a most opportune moment to embark on a vision for the future." He also noted the conclusion of the Memorandum of Understanding for Cooperation in the field of Renewable Energy, which is consistent with Sri Lanka's national priorities and global commitments towards a greener economy and will ensure the country's energy security. Trincomalee's development as an energy hub with the support of India is a crucial step toward Sri Lanka's goal to elevate Trincomalee as a hub for industry and other economic activities.
Read India Prime Minister Modi's full speech.
Read Sri Lanka President Wickremesinghe's full speech.
Related links
Speech by Prime Minister Narendra Modi
PM Modi, Sri Lankan President Ranil boost ties, unveil a new economic partnership
India, Sri Lanka agree on greater connectivity, Modi prod on implementing 13th Amendment