Bhutan, India Foreign Secretaries Chair the India-Bhutan Development Cooperation Talks, Inaugurate Projects
29 July 2023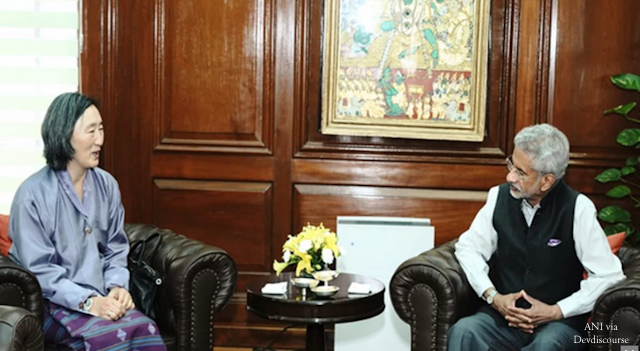 Ms. Aum Pema Choden, Foreign Secretary of the Government of Bhutan, embarked on an official visit to India on 28 - 29 July 2023 at the invitation of Mr. Vinay Kwatra, Foreign Secretary of the Government of India. They co-chaired the India-Bhutan Development Cooperation Talks. They also inaugurated several projects that were implemented with the assistance of India, including the National Single Window portal.
According to the Press Release, the two Foreign Secretaries accord high regard to the progress on bilateral cooperation in the energy sector, development partnership, cross-border connectivity, trade and economic ties, digital development, science and technology, skill development and furthering people to people ties. They agreed to continue to work to further strengthen their cooperation, in keeping with the Joint Statement issued during the official visit of His Majesty, the King of Bhutan to India in April 2023.
During the visit, Bhutan's 13th Five Year Plan was discussed. India expressed its commitment to partner with Bhutan based on the priorities of the government and people of Bhutan and advance their bilateral partnership, including new areas of cooperation.
Ms. Choden also called on Mr. S. Jaishankar, External Affairs Minister of the Government of India, during her visit.
Related links
News Release: India Ministry of External Affairs
India, Bhutan Foreign Secys meet, discuss partnership
Bhutan Foreign Secy's India visit: Numerous projects inaugurated, matters of mutual interest discussed
India and Bhutan review bilateral cooperation and discussed ways to further strengthen it across diverse sectors
Foreign Secretary visits New Delhi
Bhutan Foreign Secy's India visit: Numerous projects inaugurated, matters of mutual interest discussed