BINA Visit Border Crossings Ahead of SAARC Summit
12 November 2014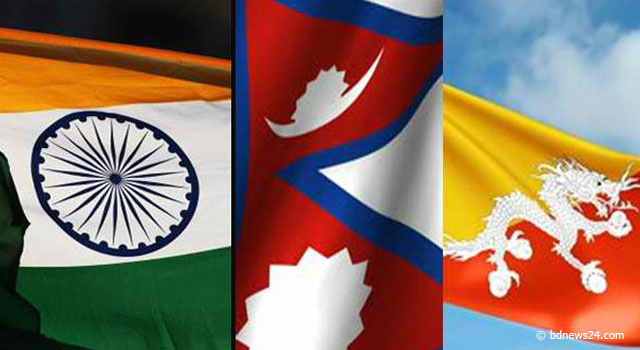 Bhutanese Ambassador Pema Choden, Indian High Commissioner Pankaj Saran, and Nepalese Ambassador Hari Kumar Shrestha visited the Land Customs Stations of Burimari-Changrabandha (Bangladesh-India), Phuentsholing-Jaigaon (Bhutan-India), Kakarbhitta-Panitanki (Nepal-India) and Phulbari-Banglabandha (India-Bangladesh) on 9-12 November 2014. Bangladesh's Foreign Ministry Director Zahid-ul-Islam also travelled as country representative with the delegation in this field-based study of bordering areas. The Bhutan-India-Nepal Ambassadors' (BINA) visit aims to enhance the importance of subregional cooperation between the four neighboring countries in the common goal of connectivity, trade, border infrastructure, and economic development.
BINA took the land route used by traders of Bangladesh, Bhutan, India, and Nepal. The envoys left Bangladesh through the northern Burimari-Changrabandha border where at least 50 Bhutanese and 100 Indian trucks enter and exit the station daily. This land customs station caters to trade between both Bangladesh and India, and Bangladesh and Bhutan. Also, about 50 Bangladeshi trucks enter India through this border, exporting goods to Bhutan. 
Meanwhile, the Phulbari-Banglabandha land customs station caters to trade between Bangladesh and India, and Bangladesh and Nepal. Approximately 80 to 100 Indian and 15 to 20 Nepal trucks enter Bangladesh daily through this border. About 20-30 trucks carrying goods from Bangladesh to Nepal pass through this border daily.
During fiscal year 2012-2013, Bangladesh's imports from Bhutan totaled nearly $25 million but its exports to Bhutan amounted to only $1.82 million. Trade was also heavily tilted towards India, exporting $4.7 billion worth of goods, while Bangladesh only exported about $563 million. Nepal also exported $35.6 million worth of goods compared with Bangladesh's exports of $26.41 million. 
BINA further visited other land ports to observe existing trade infrastructures and facilities in action, and held meetings with Customs and Immigration officials. They further assessed standard operating procedures for entry of Bhutanese and Nepalese trucks into Bangladesh territory.  
Humayun Kabir, former secretary in the Bangladesh Foreign Ministry welcomed this move as a positive step for South Asia Association for Regional Cooperation (SAARC). Pema Choden said the visit has been useful in terms of identifying necessary interventions. The visit comes ahead of the SAARC Summit on 26-27 November 2014 in Kathmandu.