Second section of India-Nepal Cross-border Rail Starts to Operate
16 July 2023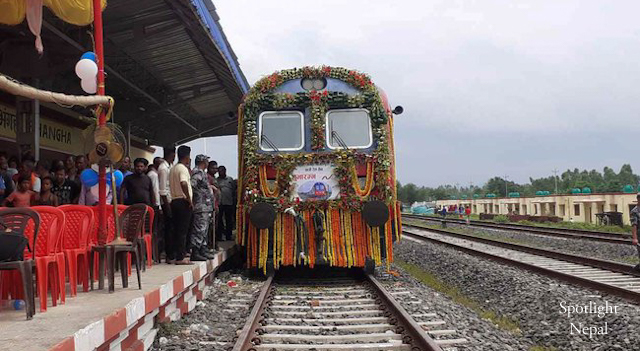 The second phase of the Jaynagar (India)-Bijalpura (Nepal)-Bardibas (Nepal) cross-border rail line project, the Kurtha-Bijalpura rail section, became operational on 16 July 2023. Mr. Prakash Jwala, Minister of Physical Infrastructure and Transport of the Government of Nepal, led the launch ceremony. The first phase of the rail route, Jaynagar-Kurtha, became operational in April 2022.
According to the news release by the Embassy of India in Kathmandu, the newly-launched rail section covers a total of 17.3 km. A total of five stations are found on this route—Kurtha, Pipradi, Loharpatti, Singyahi, and Bijalpura. The project is being constructed under grant assistance of the Government of India.
Mr. Jwala thanked the Government of India for its continuous support in the development of Nepal's infrastructure, including the rail sector. He emphasized that rail connectivity will provide tremendous boost to the people-to-people linkages between the two countries and will enhance trade and tourism in Nepal.
Related links
News release: Embassy of India in Nepal
In Boost To India-Nepal Ties, Cross-border Rail Link Becomes Operational
Nepal Railway Opens Kurtha-Bijalpura Section Of Broad Gauge Railway