ADB Approves Tranche 3 for Chittagong - Cox's Bazar Rail Project Phase 1
20 June 2023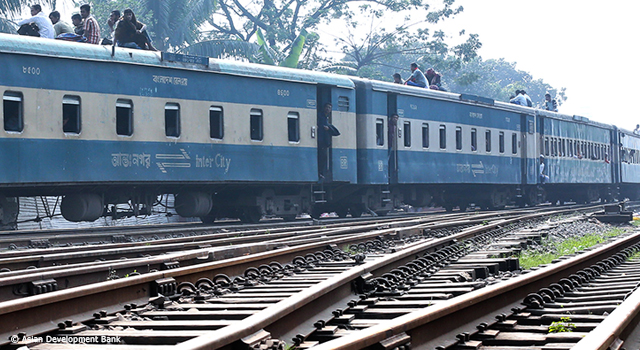 The Asian Development Bank (ADB) approved the third tranche of the SASEC Chittagong-Cox's Bazar Railway Project, Phase 1, on 20 June 2023. The assistance worth $400 million forms part of the $1.5 billion loan to build a dual-gauge railway from Chattogram (Chittagong) to Cox's Bazar. Tranche 3 will help fund construction of the 102-kilometer (km) Dohazari-Cox's Bazar section.
The project is expected to boost economic development along the Dhaka-Chattogram-Cox's Bazar corridor by offering reliable, safe, and low-cost transportation. Through the project, Cox's Bazar district will be connected to the national and subregional railway network for the first time. It brings various benefits, such as employment generation, improvement in subregional connectivity and trade, increase in the use of railway system—especially for long-distance transport—and strengthening of the multimodal transport system in Bangladesh.
The Chattogram-Cox's Bazar Railway, through the Dohazari-Cox's Bazar line, will also provide connectivity to the Matarbari Port Development Project Project, to be funded by the Japan International Cooperation Agency (JICA). The Matarbari Port is set to open in 2025.
Mr. Sharifa Khan, Secretary, Economic Relations Division of the Government of Bangladesh, and Mr. Jiangbo Ning, ADB deputy country director for Bangladesh signed the loan agreement on behalf of the Government of Bangladesh and ADB, respectively.
Related links
Bangladesh: South Asia Subregional Economic Cooperation Chittagong–Cox's Bazar Railway Project, Phase 1 (Tranche 3)
ADB provides $400m to construct Chittagong-Cox's Bazar railways
Bangladesh: South Asia Subregional Economic Cooperation Chittagong-Cox's Bazar Railway Project, Phase 1
New Industrial Hub in the Bay of Bengal Region Proposed by Japan