Improving Women's Participation in Regional Cooperation and Integration
28 October 2014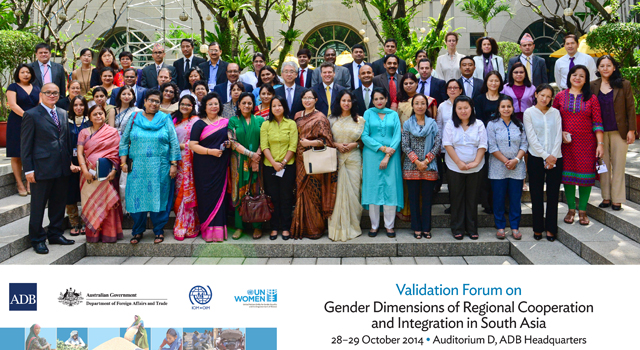 The Validation Forum on Gender Dimensions of Regional Cooperation and Integration in South Asia, held on 28-29 October in ADB Headquarters, took stock of progress made in mainstreaming gender in multi-, regional, bilateral and country policies and legal frameworks by identifying weaknesses and gaps in implementing gender-responsive legislation and the need for stronger legal empowerment and literacy of women to ensure their full access to the opportunities of intraregional trade and mobility. It also highlighted the need for continuous facilitation of this tripartite forum between Government, civil society and private sector.
The Forum concluded with the identification of similar findings between the two studies, 'Gender, Trade, and Green Growth in Bangladesh, Bhutan, India, and Nepal' and 'Gender and Safe Mobility: Promising Global and Regional Practices', that could improve women's participation in regional cooperation. Areas with the potential to improve women's participation in regional cooperation include training programs for women entrepreneurs and women migrant workers, capacity building initiatives for government and other service providers involved in cross border movement of goods and people, and improvements in institutional mechanisms and infrastructure facilities.
The Forum also highlighted actions and good practices specific to regional cooperation. These include establishment of a Gender-Inclusive Fair Trade Forum for South Asia focusing on greater market integration for small women entrepreneurs, farmers and factory owners, and outstanding trans-border cooperation mechanisms between governments, civil society organizations, and the private sector which mitigate risks faced by women moving across borders.