Bangladesh and Bhutan Sign Agreement on the Movement of Traffic-in-Transit and Protocol
22 March 2023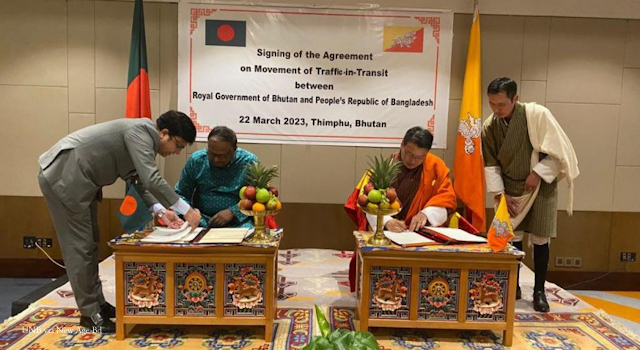 The Governments of Bangladesh and Bhutan signed the "Agreement on the Movement of Traffic-in-Transit and Protocol" on 22 March 2023 in Thimphu, Bhutan. This will open multimodal transit facilities to landlocked Bhutan, providing them access to Mongla, Payra, and Chattogram ports of Bangladesh for the movement of their imported and export-oriented goods. Bangladesh also granted Bhutan access to its roads, waterways, railways and airways to move goods to and from third countries.
The agreement will allow Bangladesh to export goods to other countries via Bhutan's roads.
Mr. Tipu Munshi, Minister of Commerce of the Government of Bangladesh, and Mr. Karma Dorji, Minister of Industries, Commerce, and Employment of the Government of Bhutan, signed the agreement on behalf of their governments. The transit deal was finalized at a secretary-level meeting in Dhaka, Bangladesh, in September 2022. It will take effect once it has been ratified by both countries.
Mr. Munshi emphasized that the signing of the agreement will help simplify trade and commerce between the two countries and further strengthen diplomatic and economic ties. He added that implementation of the transit agreement will bring infrastructural development, improving Bangladesh's sea ports and increasing its revenues.
Mr. Dorji noted that the agreement would contribute to further deepening bilateral trade and economic relations, and benefit the country's private sector.
Bangladesh signed its first preferential trade agreement (PTA) with Bhutan in December 2020. It entered into force in July 2022. The agreement grants 100 Bangladesh products duty-free access to Bhutan and 34 Bhutanese products duty-free access to Bangladesh. The signed transit deal will help further enforce the PTA.
Related links
Bangladesh-Bhutan Preferential Trade Agreement
Bangladesh, Bhutan sign transit deal
Bangladesh, Bhutan sign agreement on transit