Bangladesh, India Foreign Secretaries Vow to Further Strengthen Cooperation
16 February 2023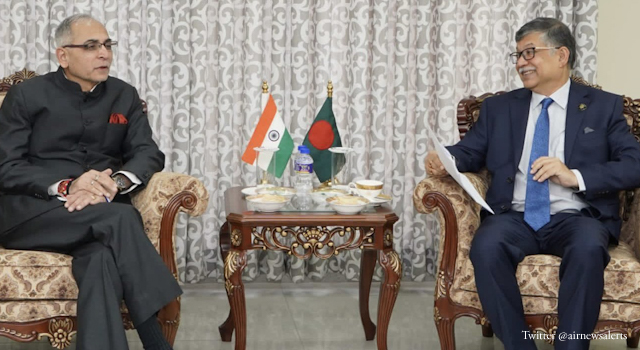 Mr. Vinay Kwatra, Foreign Secretary of the Government of India, met with Mr. Masud bin Momen, Foreign Secretary of the Government of Bangladesh, on a recent visit. They agreed to further strengthen ongoing bilateral cooperation, in areas of trade and investment, connectivity, power and energy and people-to-people ties. They also agreed to enhance their cooperation and consultations on regional and international issues of shared interest.
Mr. Kwatra paid an official visit to Bangladesh on 15-16 February 2023 at the invitation of Mr. Momen.
During the meeting, India assured Bangladesh of extending cooperation for the import of hydropower from Nepal and Bhutan through India.
They also discussed the need to expand the transmission network and boost the capacity of the transmission lines. India offered to help Bangladesh if any specific project is taken for expanding the transmission network and boosting its capacity within Bangladesh to supply electricity smoothly.
He also called on Bangladesh Prime Minister Sheikh Hasina and conveyed India Prime Minister Narendra Modi's message of continued commitment to their bilateral relationship, with Bangladesh as key to India's "Neighborhood First Policy" and "Act East Policy."
Earlier in the month, Mr. Kwatra visited Bangladesh's Khulna division. He went to the Rupsha rail bridge, a key part of the Khulna-Mongla port rail line project, funded under the Government of India's concessional line of credit to Bangladesh. The bridge is expected to enhance people-to-people contact and facilitate regional economic integration.
Related links
High Commissioner Pranay Verma visits Rupsha rail bridge
India to help Bangladesh import hydropower from Nepal, Bhutan
Foreign Secy Vinay Kwatra meets Bangladesh PM Sheikh Hasina, reaffirms India's support for economic partnership