Sri Lankan High Commissioner to India Discusses Cooperation amid Economic Recovery with Government of India Officials
10 February 2023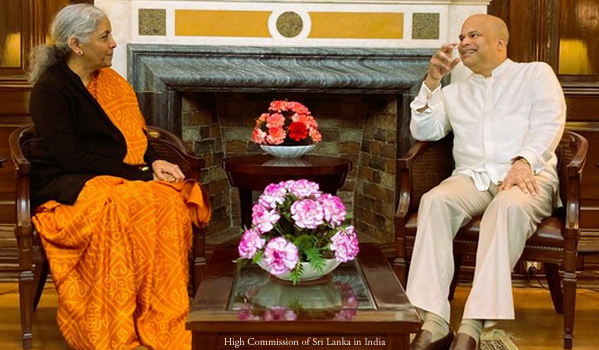 Mr. Milinda Moragoda, Sri Lankan High Commissioner to India, met with several officials of the Government of India, ahead of the first meeting of the G20 Finance Ministers scheduled on 24-25 February 2023.
On 10 February 2023, he held discussions with Mr. Pramod Kumar Mishra, Principal Secretary to the Prime Minister of India, on enhancing bilateral cooperation in the tourism sector. Their meeting focused on the vital role that India could play in Sri Lanka's economic recovery phase through tourism. They noted cooperation could be undertaken at the State level, using the memorandum of understanding signed between Sri Lanka and the State of Gujarat in 2009 when India Prime Minister Narendra Modi was the Chief Minister of Gujarat and Mr. Moragoda was the Tourism Minister of Sri Lanka, as a template.
On 14 February, Mr. Moragoda met with Mr. Piyush Goyal, Minister of Commerce and Industry of the Government of India, and Ms. Nirmala Sitharaman, Finance and Corporate Affairs Minister of the Government of India. His meeting with Mr. Goyal discussed a wide range of issues in the areas of bilateral trade and commerce, emphasizing Sri Lanka's economic recovery. They reviewed mechanisms relating to the expansion of bilateral trade, ways to establish and promote rupee trade between Sri Lanka and India, and the possibility of further bilateral integration in the textiles and garment sector.
His meeting with Ms. Sitharaman noted assistance being extended by India to Sri Lanka in the country's present economic recovery phase, including necessary regulations and approvals being set in place to facilitate rupee trade between the two countries. They also discussed possible utilization of $1 billion Indian line of credit to import urgently required essential pharmaceuticals that are in short supply in Sri Lanka.
Related links
High Commissioner Moragoda meets Indian Minister of Commerce and Industry; discusses support for economic recovery through bilateral trade expansion
High Commissioner Moragoda meets Finance Minister of India ahead of G20 Finance Ministers' Meeting
High Commissioner Moragoda meets with the Principal Secretary to the Prime Minister of India Dr. Pramod Kumar Mishra