Maldives President, India External Affairs Minister Launch Hanimaadhoo International Airport Project
19 January 2023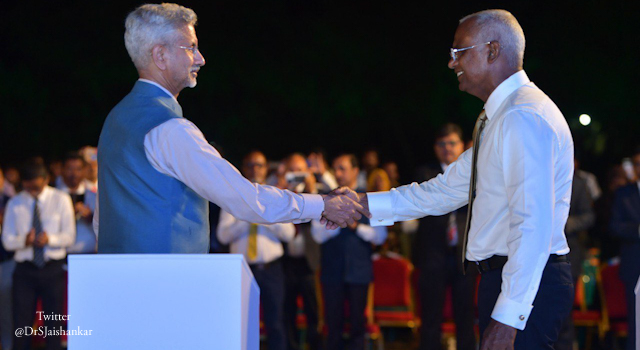 India External Affairs Minister Subrahmanyam Jaishankar called on Maldives President Ibrahim Mohamed Solih during his visit to Maldives. They jointly participated in the groundbreaking ceremony of the Hanimaadhoo international airport project.
Speaking at the ceremony, Mr. Jaishankar underscored that the initiation of the Hanimaadhoo international airport development project marks a historic milestone in the robust India-Maldives development partnership. He further stated that the project will bridge the gap between the people in Maldives' northern region and the rest of the world, and bring India and Maldives peoples together. India is privileged to be with the Maldives for its implementation, remarked the Minister, who also added that better connectivity is a prerequisite for greater prosperity.
Hailed as a "transformative project," the airport will help spur entrepreneurship, growth and employment opportunities, encourage tourism development and strengthen allied sectors, including fisheries and logistics, critical for the balanced growth of this region, according to a released statement.
The Indian External Affairs Minister undertook a trip to Maldives and Sri Lanka on 18–20 January, which are key maritime neighbors of India in the Indian Ocean Region and occupy a special place in the country's vision of 'SAGAR' (Security and Growth for All in the Region) and 'Neighborhood First'.
Related link
S Jaishankar, Maldives President take part in groundbreaking ceremony of Hanimaadhoo airport project