Mangdechhu Hydroelectric Power Project Handed Over to Bhutan Druk Green Power Corporation
27 December 2022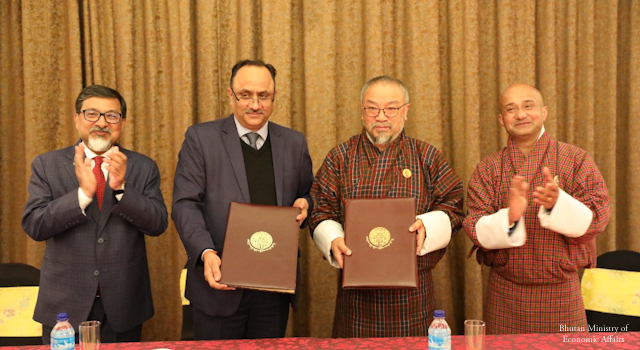 The 720-megawatt Mangdechhu Hydroelectric Power Project was handed over to Bhutan's Druk Green Power Corporation at a ceremony held on 27 December 2022 in Thimphu, Bhutan. Mr. Loknath Sharma, Minister for Economic Affairs of the Government of Bhutan, and Mr. Sudhakar Dalela, India's Ambassador to Bhutan, witnessed the ceremony. The managing directors of both institutions signed the handover document.
According to the news release by Bhutan's Ministry of Economic Affairs, the 720 MW project Mangdechhu Hydroelectric Power Project was jointly inaugurated by Bhutan Prime Minister Lotay Tshering and India Prime Minister Narendra Modi in August 2019. The commissioning of the project has increased Bhutan's Electrical Power Generation Capacity by 44% to 2,326 MW. Since its commissioning, the project has generated more than 9,500 million units of energy.
With the project's hand over, Bhutan and India have successfully completed four mega hydropower projects.
Mr. Sharma expressed gratitude to the Indian government for providing financial and technical assistance for the construction of the project.
Ambassador Dalela termed the project a "benchmark project"—achieving completion within optimal cost and timeframe. He further stressed the importance of India-Bhutan renewable energy cooperation to the Government of India.
Related links
Bhutan DGPC handed keys to Indian-backed 720 Mw Mangdechhu hydro project