Foreign Secretaries of Maldives and India Hold Official Discussions
2 October 2022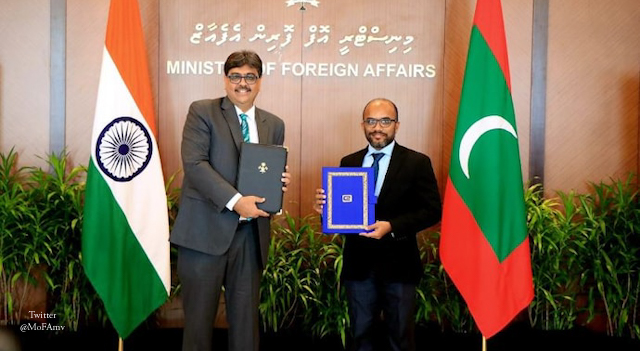 Mr. Ahmed Latheef, Foreign Secretary of the Government of Maldives, and Mr. Vinay Mohan Kwatra, Foreign Secretary of India, conducted official discussions on 2 October 2022. The meeting
Noted the successful economic cooperation between India and Maldives, and the progress of projects being implemented under Indian grant assistance and line of credit scheme; and
Discussed matters relating to development cooperation, human resource development, multilateral engagements and consular affairs.
In the meeting, Mr. Latheef expressed gratitude to the Government of India for its constant support and commitment to Maldivians and the development of Maldives.
The Governments of India and Maldives also exchanged an agreement to extend a $100 million Indian line of credit that help ease and facilitate ongoing key infrastructure projects in Maldives. Mr. Ibrahim Ameer, Minister of Finance of the Government of Maldives, and Mr. Nirmit Ved, General Manager of EXIM Bank of India, represented Maldives and India in a special ceremony at the Ministry of Foreign Affairs.
Foreign Secretary Kwatra undertook a three-day official visit to the Maldives for bilateral consultations. He also paid a courtesy call on Maldives President Ibrahim Mohamed Solih.
Related link
India and Maldives exchange USD 100 million agreement for key infrastructure projects